Latest posts by Cas Aarden
(see all)
Introduction: What is Adderall? Exploring its Definition
In today's fast-paced society, the pursuit of focus, productivity, and cognitive enhancement has become increasingly significant. Adderall, a prescription medication classified as a central nervous system stimulant, has emerged as a notable solution in addressing conditions such as attention deficit hyperactivity disorder (ADHD) and narcolepsy. However, understanding the intricacies of Adderall, including its uses, effects, and properties, is essential for informed decision-making and responsible usage. This article aims to provide comprehensive insights into the world of Adderall, offering a detailed exploration of its definition, therapeutic applications, pharmacological effects, and physical and chemical properties. By uncovering the depths of Adderall's potential, we can better grasp its benefits and limitations, empowering individuals to make educated choices regarding its usage and maximizing its positive impact on their lives.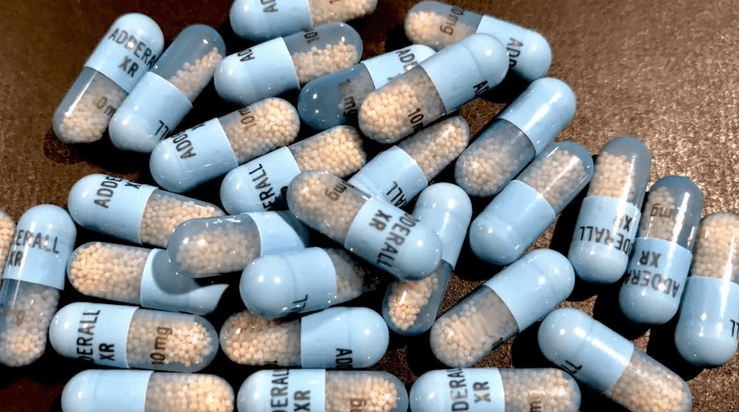 Adderall is a prescription medication that falls under the category of central nervous system stimulants. It is a blend of amphetamine salts, primarily composed of dextroamphetamine and levoamphetamine. Adderall is administered to treat mental health disorders such as ADHD and narcolepsy. It is often taken unlawfully as a performance-enhancing drug, intellect-boosting supplement, appetite suppressant, and for recreational purposes as a mood-elevator. It is a stimulant that belongs to the phenethylamine family and affects the central nervous system. By acting on certain neurotransmitters in the brain, Adderall helps to regulate attention, focus, and impulse control. It is primarily prescribed to individuals diagnosed with attention deficit hyperactivity disorder (ADHD) or narcolepsy.
ADHD is a neurodevelopmental disorder characterized by persistent patterns of inattention, hyperactivity, and impulsivity that can significantly impact daily functioning. Adderall is commonly prescribed as part of a comprehensive treatment plan to manage the symptoms of ADHD and enhance cognitive abilities.
While Adderall is primarily associated with ADHD treatment, it is occasionally prescribed off-label for other conditions such as treatment-resistant depression, cognitive enhancement, and fatigue associated with medical conditions like multiple sclerosis or cancer.
Physical and Chemical Properties of Adderall
Exploring the physical and chemical properties of Adderall provides a deeper understanding of its molecular structure, composition, and formulation, shedding light on how these factors contribute to its pharmacological effects and interactions within the body.
Adderall, a prescription medication belonging to the class of central nervous system stimulants, comprises a unique blend of amphetamine salts. The primary active components of Adderall are dextroamphetamine and levoamphetamine, which exist as enantiomers. Enantiomers are mirror-image molecules that possess similar chemical structures but differ in their spatial arrangement. The presence of both dextroamphetamine and levoamphetamine enantiomers in Adderall allows for a more comprehensive and balanced pharmacological profile.
At the molecular level, Adderall is classified as a phenethylamine derivative. It consists of a phenyl ring attached to an ethylamine backbone, endowing the compound with a lipophilic nature. This lipophilicity facilitates its ability to cross the blood-brain barrier and interact with specific receptors in the central nervous system, modulating neurotransmitter release and influencing cognitive processes.
Chemically, Adderall is a racemic mixture, meaning it contains equal amounts of the dextro- and levo- enantiomers. It has (3:1) ratio between dextroamphetamine and levoamphetamine, the two enantiomers of amphetamine. Both enantiomers produce stimulating effects, but they are different enough to produce a separate set of results for Adderall compared to racemic amphetamine or dextroamphetamine, which are sold as Evekeo and Dexedrine/Zenzedi. This formulation provides a broader spectrum of pharmacological actions compared to single-enantiomer formulations. The balanced presence of both enantiomers allows for enhanced efficacy and therapeutic benefits.
Formulation plays a crucial role in Adderall's physical characteristics and dosage forms. Inactive ingredients, such as fillers, binders, and coatings, are carefully selected to ensure proper tablet production, stability, and controlled release properties. Various formulations of Adderall are available, including immediate-release and extended-release versions, each with specific mechanisms for drug release and duration of action.
It is important to note that Adderall is available in different strengths, allowing for individualized dosing based on treatment requirements. The physical attributes of Adderall tablets, such as color, shape, and size, may vary depending on the specific formulation and manufacturer.
Adderall Uses: Therapeutic Applications and Benefits
Adderall serves as a crucial medication in managing several medical conditions, with its primary therapeutic application being the treatment of attention deficit hyperactivity disorder (ADHD). ADHD is a neurodevelopmental disorder commonly diagnosed in children, adolescents, and even adults. It is characterized by persistent patterns of inattention, hyperactivity, and impulsivity that can significantly impact daily functioning and quality of life.
Adderall's stimulant properties enable it to address the core symptoms of ADHD effectively. By influencing certain neurotransmitters in the brain, particularly dopamine and norepinephrine, Adderall helps regulate and enhance focus, attention span, impulse control, and organizational skills. This allows individuals with ADHD to better manage their tasks, improve academic or work performance, and enhance their overall productivity.
Moreover, Adderall's benefits extend beyond ADHD. In some cases, healthcare professionals may prescribe it off-label for conditions such as narcolepsy, a sleep disorder characterized by excessive daytime sleepiness and sudden episodes of falling asleep. Adderall can help individuals with narcolepsy stay awake during the day and manage their sleep-wake cycle more effectively.
At therapeutic amounts, Adderall produces emotional and cognitive effects such as elation, switch in libido, increased alertness, and enhanced cognitive control. At such amounts, it generates physical consequences including quicker reaction time, fatigue immunity, and augmented muscular force. On the opposite, much bigger amounts of Adderall can undermine cognitive manner, bring about sudden muscle disintegration, cause panic episodes, or stir up a psychosis (e.g., suspicion, fancies, illusions). The adverse consequences of Adderall differ largely among individuals, but usually encompass sleeplessness, parched mouth, shrunken appetite, and decrease in body weight. The likelihood of forming an addiction or addiction is insignificant when Adderall is used as prescribed at moderately low regular doses, such as those used for handling ADHD; nevertheless, the custom-made application of Adderall in large everyday doses poses a noteworthy danger of addiction or dependency because of the prominent reinforcing effects, which are present at high doses. Recreational doses of amphetamine regularly outmatch endorsed therapeutic doses and carry a much greater peril of serious negative outcomes.
It's important to note that Adderall should only be used under the supervision and guidance of a qualified healthcare professional. Each individual's condition is unique, and the appropriateness of Adderall as a treatment option should be carefully assessed, considering factors such as medical history, potential risks, and other available alternatives.
Adderall Pharmacology and Dosage
Amphetamine affects behavior by elevating the activity of norepinephrine and dopamine neurotransmitters in the pathways of reward and executive functioning of the brain. Its rewarding and motivating effects mainly stem from its augmented dopaminergic activity in the mesolimbic pathway.
The euphoric and loco-motor boosting effects of amphetamine derive from the speed and intensity with which it raises the dopamine and norepinephrine concentrations in the striatum.
It is a powerful full agonist of trace amine-associated receptor 1 (TAAR1) and interacts with vesicular monoamine transporter 2 (VMAT2) which in turn results in notable increases of dopamine and norepinephrine in the synapses, subsequently stimulating nerve functioning.
Dextroamphetamine offers a more pronounced TAAR1 agonism than levoamphetamine, therefore causing a higher CNS arousal in comparison to levoamphetamine, approximately three to four times more. Nevertheless, levoamphetamine exerts a slightly stronger effect on the cardiovascular and peripheral areas.
The real capability of absorbing amphetamine is not distinct, however it is assumed to exceed 75% if administrated orally, while if used through injection or intranasal delivery, absorption is assumed to be higher. Its ingestion and secretions could potentially be susceptible to pH. The basic form of the molecule is more prone to absorption in the gut and is less easily excreted from the kidney, potentially increasing its half-life. Elimination is mainly achieved by secretion via the kidneys, and a portion is carried out by hepatic enzymes.
Adderall Side Effects
The range of reactions to Adderall can differ greatly between people, but the most typical ones are difficulty sleeping, dry mouth, reduced appetite, and weight loss. Taking Adderall according to instructions and in partially small amounts generally carries a minimal chance of addiction or reliance; however, the practice of utilizing Adderall in bigger amounts regularly presents a major risk of addiction or reliance due to the notable stimulating properties seen with larger quantities. Non-medical dosages of amphetamine mainly exceed those recommended for medical treatments and bring a more serious potential of adverse effects.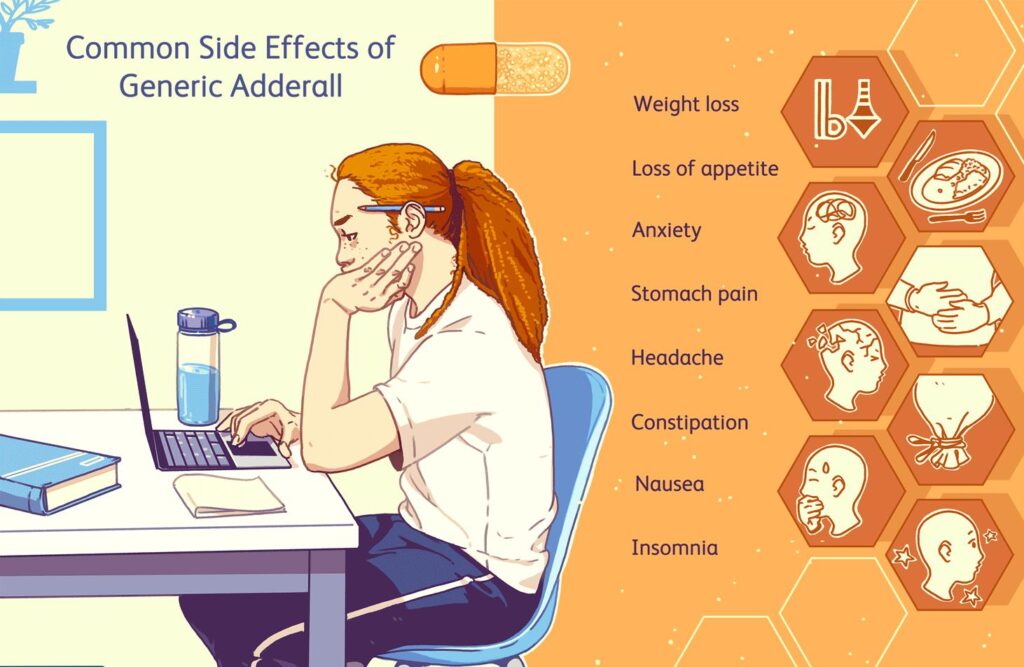 The aftermath of a stimulant-induced high typically results in negative sensations which are less enjoyable than those felt at the peak of the experience. This is often called a "comedown" and happens due to the depletion of neurotransmitters. Its symptoms often include:
Anxiety – Anxiety can reach severe levels during the comedown in some users.
Appetite suppression
Cognitive fatigue
Depression
Increased heart rate – While blood concentration of amphetamine and most subjective effects are highest about 3 hours after administration, heart rate peaks much later at 10 hours after administration.
Irritability
Restless legs
Sleep paralysis – Some users note sleep paralysis after consuming amphetamine.
Dream suppression
Thought deceleration
Wakefulness – The insomnia following a repeated series of amphetamine doses can last for longer than a day in some users.
Motivation suppression – Experiences can range from mild demotivation to extreme states of disinterest. This effect is more prominent at common and heavy doses.
Long-Term Effects of Adderall: Implications of Prolonged Use Explored
As of March 2014, there is no proof that amphetamine is directly damaging to humans. Nevertheless, the high dosage of amphetamine may lead to indirect neurotoxicity due to augmented oxidative load as a consequence of reactive oxygen molecules and autoxidation of dopamine.
In rats and primates, when amphetamine is taken in high amounts, it may damage neurons displaying dopamine, leading to reduced carrying and receptor operation. Studies have demonstrated that neurotoxicity from great doses of amphetamine necessitates hyperpyrexia (i.e., core body temperature ≥ 40°C).
Melatonin may block (if taken 30 mins+ ahead of administering dosage) and turn back amphetamine caused neurotoxicity of TH-pSer40 and calpastatin concentrations in the Substantia Nigra of rats.
It is highly suggested that one take preventive measures while taking this substance.
Legal status
Globally, amphetamine is considered a Schedule II controlled substance under the United Nations 1971 Convention on Psychotropic Substances.
Australia: Amphetamine is a Schedule 8 controlled substance.
Austria: Amphetamine is illegal to possess, produce and sell under the SMG (Suchtmittelgesetz Österreich).
Brazil: Amphetamine is a Class A3 psychoactice substance.
Canada: Amphetamine is a Schedule I drug in Canada.
Germany: Amphetamine was added to the Opiumgesetz (Opium Act) in 1941. In accordance to the Narcotics Act reform of 1981, it is controlled under Anlage III BtMG (Narcotics Act, Schedule III). It can only be prescribed on a narcotic prescription form.
Japan: Amphetamine is prohibited even for medical use in Japan.
Luxembourg: Amphetamine is a prohibited substance for recreational use.
The Netherlands: Amphetamine is a List I controlled substance.
New Zealand: Amphetamine is a Class B controlled substance.
South Korea: Amphetamine is prohibited even for medical use in South Korea.
Sweden: Amphetamine is classified as a drug by the United Nations and is included in list P II in the 1971 Psychotropic Convention, as well as in list II in Sweden.
Switzerland: Amphetamine is a controlled substance specifically named under Verzeichnis A. Medicinal use is permitted.
Thailand: Amphetamine is classified as a category 1 narcotic under the Thai Narcotic Act of 2012.
United Kingdom: Amphetamine is a Class B drug in the United Kingdom.
United States: Amphetamine is a Schedule II controlled substance in the United States.
Conclusion
In conclusion, exploring the realm of Adderall has provided valuable insights into its uses, effects, properties, and safe usage guidelines. Armed with a comprehensive understanding of this medication, individuals can make informed decisions and optimize its potential benefits while prioritizing their well-being.
Bibliography
Varga, Matthew D. "Adderall abuse on college campuses: a comprehensive literature review." Journal of evidence-based social work 9.3 (2012): 293-313. https://www.tandfonline.com/doi/abs/10.1080/15433714.2010.525402
Fitzgerald, Kevin T., and Alvin C. Bronstein. "Adderall®(amphetamine-dextroamphetamine) toxicity." Topics in companion animal medicine 28.1 (2013): 2-7. https://www.sciencedirect.com/science/article/pii/S193897361300024X
Patrick, Kennerly S., and John S. Markowitz. "Pharmacology of methylphenidate, amphetamine enantiomers and pemoline in attention‐deficit hyperactivity disorder." Human Psychopharmacology: Clinical and Experimental 12.6 (1997): 527-546. https://onlinelibrary.wiley.com/doi/abs/10.1002/(SICI)1099-1077(199711/12)12:6%3C527::AID-HUP932%3E3.0.CO;2-U