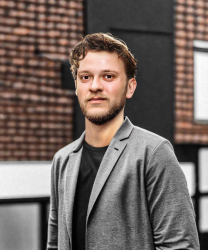 Latest posts by Cas Aarden
(see all)
Abstract
Clonazolam, also known as clonitrazolam, belongs to the triazolobenzodiazepine (TBZD) class of drugs, which are benzodiazepines (BZDs) fused with a triazole ring. Despite being sold online as a designer drug, there has been very limited research conducted on its effects and metabolism. This article provides a comprehensive overview of Clonazolam, covering its general information, physical and chemical properties, recreational pharmacology, effects and symptoms, street names, prices and approximate dosage, hazardous interactions, legal status, synthesis of 6-(2-chlorophenyl)-1-methyl-8-nitro-4H-[1,2,4]triazolo[4,3-a][1,4]benzodiazepine, conclusion, and bibliography.
General Information About Clonazolam [1, 2, 3]
Other synonyms names of Clonazolam are: Clonitrazolam; 8-Nitro-6-(o-chlorophenyl)-1-methyl-4H-s-triazolo[4,3-a][1,4]benzodiazepine; 6-(2-Chlorophenyl)-1-methyl-8nitro-4H(1,2,4)triazolo(4,3-a)(1,2,4)triazolo(4,3-a)(1,4)benzodiazepine; 6-(2-Chlorophenyl)-1-methyl-8-nitro-4H-(1,2,4)triazolo(4,3-a)(1,4)benzodiazepine; Clonazolammissing
IUPAC Name of Clonazolam: 6-(2-chlorophenyl)-1-methyl-8-nitro-4H-[1,2,4]triazolo[4,3-a][1,4]benzodiazepine
CAS number is 33887-02-4
Physico-Chemical Properties of Clonazolam [1, 2, 3]
Structural formula of Clonazolam present on Figure 1.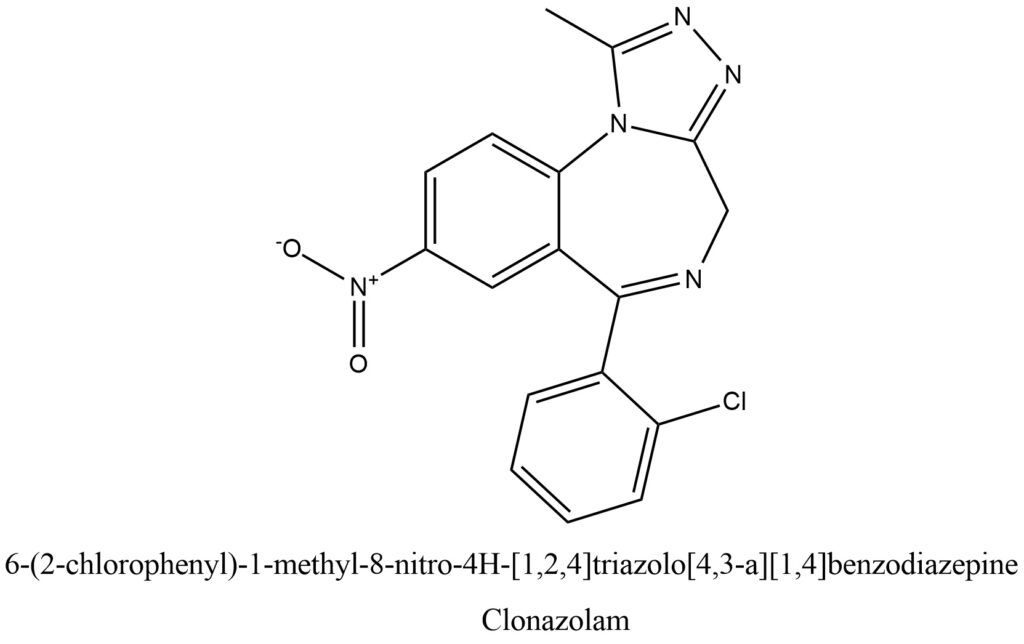 Powder and liquid possible of the Clonazolam can be seen in the pictures provided in Figure 2 and Figure 3.

General Information of Clonazolam in Recreational Use and Pharmacology [5-12]
Clonazolam is a benzodiazepine derivative of alprazolam, the active ingredient in Xanax. As a designer benzodiazepine, it has become increasingly available through illegal internet drug markets and is relatively inexpensive compared to its parent analogs. This accessibility has contributed to the rising prevalence of designer benzodiazepine abuse. A recent case involved a 14-year-old male who was found unresponsive after ingesting multiple tablets suspected to be Xanax. Toxicology results revealed the presence of 140 ng/mL of 8-aminoclonazolam, a clonazolam metabolite, in the decedent's system, while alprazolam was not detected. The pathological analysis concluded that cerebral and respiratory depression resulted from acute clonazolam intoxication, leading to the first known death induced by clonazolam alone. CBS NEWS has reported on both real and counterfeit Xanax products. (Figure 4) [6].
Clonazolam, also known as Clonitrazolam, is a benzodiazepine derivative that produces anxiolytic, sedative, muscle relaxant, and amnesic effects upon administration. It is a novel research chemical that is a derivative of the FDA-approved drugs, clonazepam (Klonopin, Rivitrol) and alprazolam (Xanax). This compound is reported to be about 2.5 times more potent than alprazolam. The synthesis of Clonazolam was first reported in 1971, where it was described as the most active compound in the tested series. Due to its high potency, there are concerns that it may pose a higher risk than other designer benzodiazepines due to its ability to cause strong sedation and amnesia at low oral doses of 0.5 mg or 500 micrograms (µg). Clonazolam is primarily sold as a designer drug by online research chemical vendors and is often found on blotter paper or in volumetrically dosed solutions due to its microgram-range potency. The abrupt discontinuation of benzodiazepines can lead to seizures, and it is recommended to gradually taper off the daily dose instead of stopping abruptly. Proper harm reduction practices should be used when choosing to use this substance due to its high dependence-forming and addiction potential, as well as its alcohol-like ability to induce black-out states. Clonazolam produces its effects by binding to the benzodiazepine receptor site, which magnifies the efficiency and effects of the neurotransmitter gamma aminobutyric acid (GABA) by acting on its receptors, resulting in sedative effects on the nervous system. Its anticonvulsant properties may be due to binding to voltage-dependent sodium channels (VDSC). Clonazolam is hydroxylated and mainly reduced to the 7-amino benzodiazepine and then acetylated. In mice, it is the most active overall in a series of triazolobenzodiazepines, sometimes proving effective at under 10 μg/kg. https://safrole.com/knowledge-base/alprazolam-xanax-uses-dosage-side-effects-and-more/
Effects and symptoms of Clonazolam Use
Clonazolam is said to share similarities with alprazolam and other benzodiazepines in terms of its ability to suppress emotions and induce moderate to strong feelings of relaxation, pleasure, and comfort in the body. This effect appears to be more pronounced in individuals who have pre-existing anxiety. According to many user reports, this compound is considered to be one of the most euphoric benzodiazepines available.
The cognitive effects of clonazolam are primarily believed to be amnesic in nature, although it also exhibits other typical effects seen with benzodiazepines. Clonazolam is known to cause blackouts at a higher rate than other benzodiazepines, according to reports.
All effects in different categories [12]
Clonazolam is widely recognized as a highly addictive substance, with both physical and psychological dependencies. It's common to develop a tolerance to the drug's sedative and hypnotic effects within a few days of use. Once use is stopped, tolerance levels typically return to normal within 7 to 14 days. However, in cases of long-term or intense usage, it may take significantly longer for tolerance levels to return to normal. Additionally, Clonazolam causes cross-tolerance with all benzodiazepines, resulting in reduced effectiveness of all benzodiazepines after consumption.
Physical effects:
Sedation – Clonazolam has the potential to be extremely sedating and often results in an overwhelmingly lethargic state. At higher levels, this causes users to suddenly feel as if they are extremely sleep deprived and have not slept for days, forcing them to sit down and generally feel as if they are constantly on the verge of passing out instead of engaging in physical activities. This sense of sleep deprivation increases proportional to dosage and eventually becomes powerful enough to force a person into complete unconsciousness.
Muscle relaxation – This effect is particularly strong when compared to other benzodiazepines such as alprazolam.
Motor control loss – This effect is particularly strong when compared to other benzodiazepines. Losing your balance can become easy incredibly quickly if not careful. Holding onto a wall or rail is sometimes necessary due to the severe inability to walk straight.
Dizziness
Increased libido
Respiratory depression
Visual effects:
Visual acuity suppression – Like many depressants, Clonazolam is known to cause blurred or otherwise suppressed visual acuity in higher doses.
Paradoxical effects: Paradoxical reactions to benzodiazepines such as increased seizures (in epileptics), aggression, increased anxiety, violent behavior, loss of impulse control, irritability and suicidal behavior sometimes occur (although they are rare in the general population, with an incidence rate below 1%).
These paradoxical effects occur with greater frequency in recreational abusers, individuals with mental disorders, children, and patients on high-dosage regimes.
Cognitive effects:
Anxiety suppression
Amnesia – Clonazolam is reported to cause "blackouts" at a higher rate than other benzodiazepines.
Disinhibition
Euphoria – A distinct portion of users report feeling a marked sense of emotional well-being and comfort while under the influence of this substance. Because this does not occur regularly or consistently for most users, it is speculated that this effect only manifests among those who have unusually high baseline levels of anxiety. However, people without anxiety issues also report clonazolam as being euphoric.
Compulsive redosing
Emotion suppression – Although this compound primarily suppresses anxiety, it also dulls other emotions in a manner which is distinct but less intensive than that of antipsychotics.
Delusions of sobriety – This is the false belief that one is perfectly sober despite obvious evidence to the contrary such as severe cognitive impairment and an inability to fully communicate with others. It most commonly occurs at heavy dosages.
Memory suppression – Clonazolam primarily suppresses short-term memory, resulting in forgetfulness, and/or disorganized behaviors.
Analysis suppression
Motivation suppression – Due to clonazolam's heavy sedation and lethargy, doing any type of activity that requires moving, or high amounts of effort may be difficult to do on this compound, especially at higher doses.
Thought deceleration
Language suppression – Clonazolam & most benzodiazepines are known to cause slurred speech and difficulty communicating words in a clear fashion.
Sleepiness
After effects:
Rebound anxiety – Rebound anxiety is a commonly observed effect with anxiety relieving substances like benzodiazepines and etizolam. It typically corresponds to the total duration spent under the substance's influence along with the total amount consumed in a given period, an effect which can easily lend itself to cycles of dependence and addiction.
Dream potentiation or Dream suppression
Residual sleepiness – While clonazolam can be used as an effective sleep-inducing aid, its effects may persist into the morning afterwards, which may lead users to feeling "groggy" or "dull" for up to a few hours.
Thought deceleration
Thought disorganization
Irritability
Motivation suppression
Street Names, Prices and Approximate Dosage
Clonazolam is commonly referred to as "Clon," "Clam," or "C-lam" on the street. Fake XANAX pills are often sold under various street names, including "Bars," "Footballs," "French Fries," "Ladders," "School Bus," "Xan," "Xannies," "Z-Bars," "Xanbars," "Planks," "Bricks," and "Upjohn." Clonazolam is available for purchase in different forms, such as powder, blotter, liquid, and tablet. Its street value varies, with Xanax 0.25 mg to 1mg tablets typically priced at $3 to $5 per pill. (Figure 5).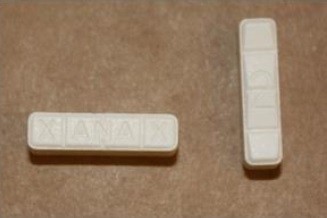 When it comes to benzodiazepines in powder form, accurately measuring them out can be difficult without using an expensive scale due to their high potency. This is especially true for Clonazolam, which is active in micrograms. To avoid negative effects, a solution can be created by dissolving the benzodiazepine volumetrically and following the correct dosing instructions. The recommended dosages for Clonazolam are as follows: Threshold – 50 µg, Light – 75 to 200 µg, Common – 200 to 400 µg, Strong – 400 to 1 mg, Heavy – 1 mg or more. The effects of Clonazolam typically last for 6 to 10 hours, with onset occurring within 10 to 30 minutes.
Dangerous interactions
See also [14 and 15]
Clonazolam is believed to have low toxicity compared to its dose. Nevertheless, it can be potentially fatal when combined with depressants such as alcohol or opioids. (Figure 6).
It is highly recommended to practice harm reduction techniques such as volumetric dosing when using Clonazolam to ensure accurate dosing. When combined with depressants like alcohol or opioids, Clonazolam can become potentially lethal.
Depressants such as 1,4-Butanediol, 2M2B, alcohol, benzodiazepines, barbiturates, GHB/GBL, methaqualone, and opioids can enhance the muscle relaxation, sedation, amnesia, and respiratory depression caused by each other. At higher doses, it may cause sudden unconsciousness and dangerous respiratory depression, leading to suffocation from vomit. If nausea or vomiting occurs before losing consciousness, it is recommended to sleep in a recovery position or ask a friend for assistance.
Combining depressants with stimulants can lead to accidental excessive intoxication, as stimulants mask the sedative effect of depressants. Once the stimulant effect wears off, the depressant's effects can significantly increase, resulting in intensified disinhibition, motor control loss, and dangerous black-out states. There is also a risk of severe dehydration if fluid intake is not monitored carefully. If combined, it is advised to set a schedule for dosing and limit the amount per hour until reaching the maximum threshold.
The combination of dissociatives can unpredictably potentiate the amnesia, sedation, motor control loss, and delusions caused by each other. It may also result in sudden unconsciousness accompanied by dangerous respiratory depression. If nausea or vomiting occurs before losing consciousness, it is recommended to sleep in a recovery position or ask a friend for assistance.
Benzodiazepine overdose may occur with extremely high doses or when combined with other depressants such as barbiturates and alcohol. This combination is especially risky as these substances work similarly but bind to different sites on the GABAA receptor, leading to significant cross-potentiation.
Benzodiazepine overdose is a medical emergency that can result in a coma, permanent brain injury, or death if left untreated. Symptoms include severe slurred speech, confusion, delusions, respiratory depression, and non-responsiveness. The user might seem like they are sleepwalking, and their impaired judgement may lead them to consume more of the same or another substance, which is typically not seen with other substances during overdose.
Benzodiazepine overdoses can be effectively treated in a hospital environment with generally favorable outcomes. Care is primarily supportive, although overdoses are sometimes treated with flumazenil, a GABAA antagonist, or other procedures such as adrenaline injections if other substances are involved.
Legal Status [1, 12]
Czech Republic: Clonazolam is a Schedule I (List 4) substance. Used exclusively for limited research purposes or very limited therapeutic purposes.
Australia: clonazolam is Schedule 9 under federal law.
Germany: Clonazolam is controlled under the BTMG (Betäubungsmittelgesetz) in the Anlage II as of November 11, 2021. Production and import with the aim to place it on the market, administration to another person, possession and trading are illegal.
Japan: Clonazolam is controlled by the Pharmaceutical Affairs Law in Japan, making it illegal to possess or sell.
Poland: Clonazolam is a NPS class drug in Poland, making it illegal to possess or distribute.
Russia: Clonazolam is a Schedule III controlled substance since 2017.
Sweden: Clonazolam is classified as an addictive. Production, import, trading and possesion require a special permission.
Switzerland: Clonazolam is a controlled substance specifically named under Verzeichnis E.
United Kingdom: Clonazolam is a Class C drug in the UK as of 31st May 2017 and is illegal to possess, produce or supply.
United States
Oregon: Clonazolam is now classified as a Schedule 1 substance in the state of Oregon.
Virginia: Clonazolam is now classified as a Schedule 1 substance in the state of Virginia.
On December 23rd, 2022 the DEA announced it will be placing Clonazolam under temporary Schedule I status for 2 years starting on January 23rd, 2023. Unless the DEA submits to extend or place into permanent Schedule I status this order will expire on January 23rd, 2025
Synthesis of 6-(2-chlorophenyl)-1-methyl-8-nitro-4H-[1,2,4]triazolo[4,3-a][1,4]benzodiazepine [12, 16]
Clonazolam is classified as a benzodiazepine drug, characterized by a benzene ring fused to a diazepine ring. In the case of clonazolam, the benzyl ring is substituted with a nitro group at R8, and the diazepine ring is bonded at R6 to a 2-chlorinated phenyl ring. Additionally, clonazolam contains a 1-methylated triazole ring that is fused to and incorporates R1 and R2 of its diazepine ring, which places it in the class of triazolobenzodiazepines. This class of benzodiazepines is identified by the suffix "-zolam." Clonazolam is also a nitrobenzodiazepine, which is a subclass of benzodiazepines that contains a nitro group (NO2-). Examples of other nitrobenzodiazepines include clonazepam and flunitrazepam.
Figure 7 provides the synthesis of Clonazolam, which begins with 2-amino-2′-chloro-5-nitrobenzophenone.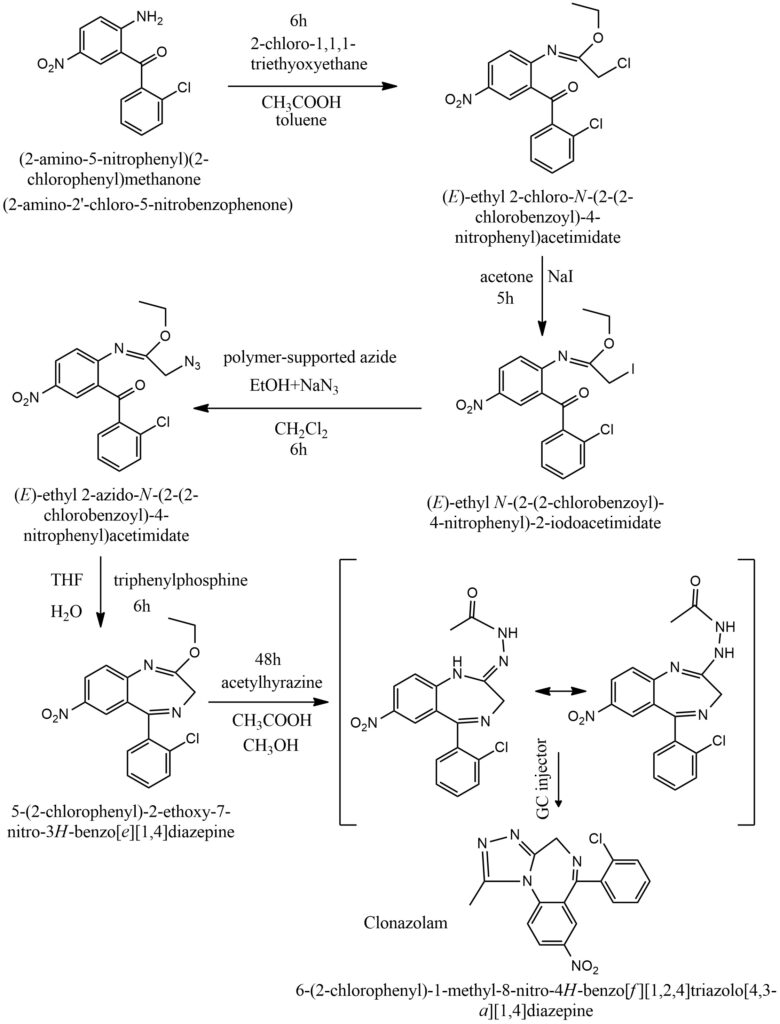 Conclusion
Clonazolam is an illegal drug that belongs to the class of tranquilizers and depressants. It is also known as clonitrazolam and belongs to the triazolobenzodiazepine (TBZD) class of drugs, which are benzodiazepines (BZDs) fused with a triazole ring. Benzodiazepine overdose is a medical emergency that can cause a coma, permanent brain damage, or even death if not treated promptly. Symptoms of overdose include severe slurred speech, confusion, delusions, respiratory depression, and unresponsiveness. However, the drug can be potentially lethal when combined with depressants such as alcohol or opioids.
Bibliography