Latest posts by Cas Aarden
(see all)
Abstract
Dezocine (Dalgan) is a mixed mu/kappa opioid partial agonist that is effective in reducing acute pain in both animal models and clinical applications such as postoperative pain. Despite being discontinued in western markets in 2011, it has become the most popular opioid analgesic in China, capturing over 40% of the market. Moreover, dezocine has norepinephrine uptake inhibitory activity, which may enhance its effectiveness in treating acute pain and potentially endow it with antinociceptive activity in neuropathic pain conditions. Dezocine, sold under the brand name Dalgan, is an atypical opioid analgesic used to manage pain via intravenous infusion or intramuscular injection. The use of opioids as analgesics and drugs of recreation for over 8000 years has led to the current "opioid crisis" and efforts to limit or avoid the use of opioids in favor of other therapies. Although mu opioid agonists can be effective in reducing pain, they can be addictive, result in tolerance, and cause dangerous, even fatal, side effects. This article provides a comprehensive overview of dezocine, including its general information, physicochemical properties, pharmacology, dosage, effects, symptoms, prices of dezocine use, legal status, synthesis, conclusion, and bibliography.
General Information About Dezocine [1-5]
Other synonyms names of Dezocine are: (-)-13beta-Amino-5,6,7,8,9,10,11alpha,12-octahydro-5alpha-methyl-5,11-methanobenzocyclodecen-3-ol; (5R,11S,13S)-13-amino-5-methyl-5,6,7,8,9,10,11,12-octahydro-5,11-methanobenzo[10]annulen-3-ol
IUPAC Name of Dezocine: (1R,9S,15S)-15-amino-1-methyltricyclo[7.5.1.02,7]pentadeca-2(7),3,5-trien-4-ol
CAS number is 53648-55-8
Trade names are Dezocina; Dezocinum; Docozine; Dozocine; Wy-16225; Dalgan
Physico-Chemical Properties of Dalgan [1-5]
Molecular Formula C16H23NO
Molar Weight 245.36 g/mol
Boiling point 392.6±42.0 °C at 760 mmHg
Flash Point: 191.3±27.9 °C
Solubility: Water Solubility is 17.77 mg/L at 25°C; DMSO: slightly soluble
Methanol: slightly soluble
Color/Form: Solid
Structural formula present on Figure 1.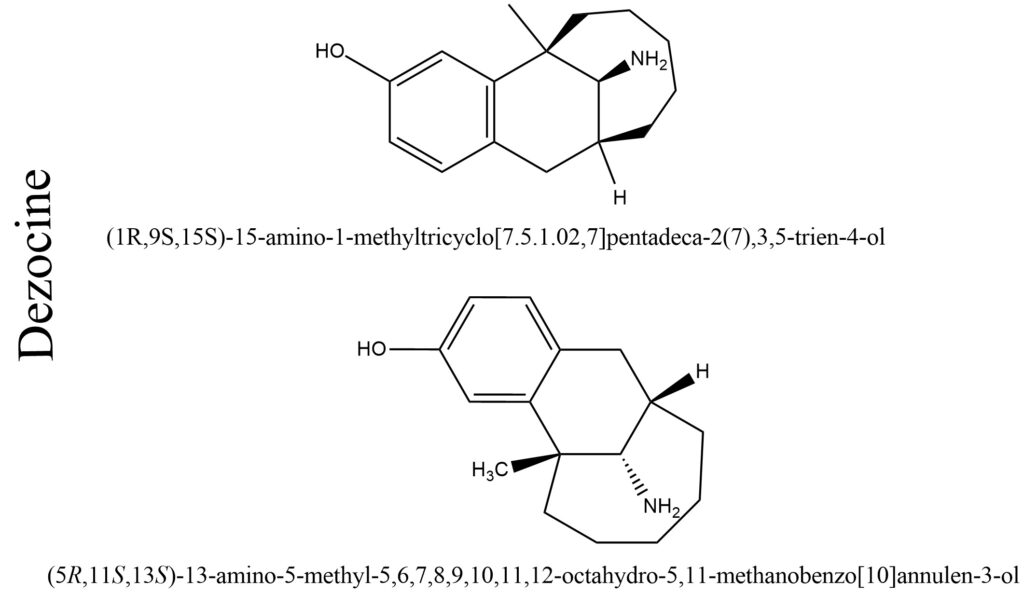 General Information of Dezocine in Recreational Use and Pharmacology [6-10]
Dezocine is a chemical compound derived from aminotetralin and shares structural similarities with the opiate pentazocine belonging to the benzomorphan class. The compound was originally discovered at the Wyeth Division of American Home Products and designated as WY-16,225. In 1986, it was introduced in the market under the trade name Dalgan. Although the reason remains unclear, its usage was discontinued in the US in 2011. However, the drug has gained popularity in China, which is the second largest analgesic market worldwide. Dezocine was initially used to treat postsurgical pain, but with the increasing incidence of cancer, it has become a preferred choice for managing moderate to severe pain in China.
Dezocine is classified as an atypical opioid analgesic and is administered through intravenous infusion and intramuscular injection. It modulates the opioid receptors, particularly the μ- and κ-opioid receptors, acting as a partial agonist. It exhibits similar effects to other opioids targeting the μ-opioid receptor, such as relief from pain and euphoria. However, unlike other opioids that target the κ-opioid receptor, it does not cause dysphoria or hallucinations at any therapeutic dosage. The compound was first synthesized in 1970 and was introduced for medical use in the US in 1986, but it was not marketed in other countries.
Dezocine is a partially synthetic opiate drug and is primarily used to manage pain. It has been found to be a useful alternative to fentanyl when used during outpatient laparoscopy. However, the drug is associated with an increased incidence of postoperative nausea.
Pharmacology
Dezocine has been found to be more potent than morphine, codeine, and pentazocine in various pain models, regardless of the administration route. Compared to morphine, dezocine is less potent in causing respiratory depression, constipation, and adverse cardiovascular effects. Studies have shown that dezocine can antagonize morphine-induced loss of righting reflex and precipitate withdrawal symptoms in morphine-dependent rhesus monkeys. However, unlike the mu opioid antagonist naloxone, dezocine does not induce the stereotypical jumping behavior in morphine-treated mice. These observations, along with results from isolated guinea pig ilium, suggest that dezocine may be a partial mu opioid agonist. Interestingly, the analgesic effect of dezocine was found to be additive with that of morphine rather than antagonistic, indicating that other mechanisms, in addition to mu opioid agonism, contribute to the drug's analgesic effect.
Further research has revealed that dezocine interacts with kappa opioid receptors, but there was disagreement in the literature for several years as to whether dezocine was a kappa agonist or antagonist. Recent studies by Wang et al. suggest that dezocine possesses potent affinity and selectivity for both mu and kappa opioid receptors.
Dosage, Effects, Symptoms, Prices of Dezocine Use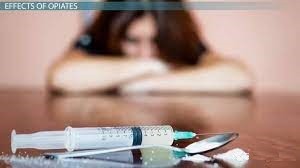 Opioid analgesics are known to cause respiratory depression as a side effect, due to their interaction with mu opioid receptors in specific areas of the central nervous system, such as the preBotzinger complex. Dezocine, like morphine, can cause respiratory depression, although it is generally well-tolerated. However, unlike morphine, dezocine has a ceiling effect for respiratory depression, meaning that higher doses do not produce increased effects. In fact, dezocine can even antagonize the respiratory depression caused by morphine.
Dezocine is available in injectable solutions of varying doses, including 5mg/ml, 10mg/ml, and 15mg/ml. The elimination half-life of dezocine ranges from 1.7 to 2.6 hours after a 5mg intravenous dose, and from 2.4 to 2.6 hours after a 10mg dose. The half-life is increased by 30-50% in patients with hepatic cirrhosis. Unlike many opioid analgesics, dezocine has minimal effects on constipation, as indicated by animal studies.
Dezocine does produce some typical side effects of agonist-antagonists, such as sedation (which can be prolonged), nausea, and vomiting. The sedative effect typically occurs about an hour after intramuscular injection of 10-15mg of dezocine. High doses of dezocine do not produce increased analgesia or respiratory depression, indicating a "ceiling" effect. Although reports of narcotic potential are rare, it is important to monitor for signs of drug dependence.
In individuals without histories of drug abuse, dezocine has been shown to produce euphoria and increased ratings of drug liking. Therefore, hospitals and surgical centers should implement strict accountability procedures when administering dezocine. Although the mood effects produced by intravenous dezocine are indicative of euphoria, other subjective, psychomotor, and physiological effects are dose-dependent. Laboratory uses of dezocine cost approximately €593 per 1mg.
Dezocine:
https://www.rxwiki.com/dezocine
Legal Status
Currently, as of 2023, dezocine is not widely used in the United States or Canada as a prescribed analgesic for postoperative care. It is not commercially available in these countries and is not included in most standard formularies. However, in some cases, dezocine may be obtained through specialized pharmacies or by special order.
In contrast, dezocine is commonly used after surgery in China, where it is available as a prescription medication. It is considered a safe and effective alternative to other opioid analgesics and is used to manage moderate to severe pain in hospitalized patients.
Like other potent analgesics, dezocine is classified as a prescription-only medication in most countries. Patients who are prescribed dezocine should be closely monitored for signs of respiratory depression, sedation, and other side effects.
Synthesis of Dalgan [6]
Dezocine is a synthetic opioid analgesic with mixed opioid agonist and antagonist properties. Its chemical formula is (7S,8S)-7-Amino-8-methyl-5,6,7,8-tetrahydronaphthalen-2-ol, where one of the hydrogens at position 6 and the hydrogen at position 8 are substituted by each end of a tetramethylene bridge. Despite its use in pain management, it can produce opioid withdrawal syndrome in patients already dependent on other opioids, and its clinical application is limited by side effects such as dizziness. Dezocine is a phenol and a primary amino compound.
The original synthesis of dezocine is shown in Figure 2. It begins with the treatment of 1-methyl-7-methoxytetralone with 1,5-dibromopentane, followed by base-catalyzed cyclization to give octahydro[10]annulen-13-one. The resulting compound is then converted to an oxime, which is hydrogenated over Raney Nickel to produce a mixture of diastereomers α-epimer and β-epimer in a ratio of 5:95. The oxime mixture is then converted to their hydrochloride salts and recrystallized from water, followed by acetone/methanol, to obtain the sterically favored beta-epimer in 54% yield. Treatment of the beta-epimer with refluxing 48% aqueous HBr provides racemic substances, which are isolated as the hydrobromide salt. The chirally pure (-)-isomer of dezocine is obtained by kinetic crystallization of the D-tartaric acid salts of (-)-isomer.
Conclusion
In various pain models, dezocine has shown greater potency compared to morphine, codeine, and pentazocine, regardless of the administration route. However, like other agonist-antagonist opioids, dezocine may cause side effects such as sedation (which may sometimes last longer), as well as nausea and vomiting. Although it is an atypical opioid analgesic used to treat pain, it is not prescribed in the United States or Canada as of 2011. Dezocine, marketed as Dalgan, can be administered through intravenous infusion or intramuscular injection.
Bibliography