Latest posts by Cas Aarden
(see all)
Abstract
Pentazocine is a synthetic opioid with unique agonist and antagonist properties that act on opiate receptors. Originally, this medication was available in oral and parenteral forms to treat moderate-to-severe pain, but now it is only offered as a tablet in combination with either acetaminophen or naloxone. Interestingly, Pentazocine has not been linked to liver damage or enzyme elevations during therapy. Pentazocine use is only detectable in individuals who have taken this drug.
Being the first mixed agonist-antagonist analgesic to be marketed, Pentazocine primarily acts as an agonist at the kappa and sigma opioid receptors while also having a weak antagonist effect at the mu receptor. Scientific evidence suggests that Pentazocine competes with the same receptor sites as opioids, especially the opioid mu receptor, resulting in antagonizing the opioid effects.
Pentazocine is mainly used in pain management treatment. This article provides a comprehensive overview of Pentazocine, including its general information, physico-chemical properties, pharmacology, toxicity, effects, side effects, symptoms of use, recreational use, street names, prices, approximate dosage, dangerous interactions, legal status, synthesis, conclusion, and bibliography.
General Information About Pentazocine (Talwin) [1-5]
Other synonyms names of Pentazocine are: (2R*,6R*,11R*)-1,2,3,4,5,6-Hexahydro-6,11-dimethyl-3-(3-methyl-2-butenyl)-2,6-methano-3-benzazocin-8-ol; 2-Dimethylallyl-5,9-dimethyl-2′-hydroxybenzomorphan; 2′-Hydroxy-5,9-dimethyl-2-(3,3-dimethylallyl)-6,7-benzomorphan
IUPAC Name of Pentazocine: (1R,9R,13R)-1,13-dimethyl-10-(3-methylbut-2-enyl)-10-azatricyclo[7.3.1.02,7]trideca-2(7),3,5-trien-4-ol
CAS numbers are 359-83-1; 7488-49-5; 7361-76-4
Related CAS are 17146-95-1 (lactate); 64024-15-3 (hydrochloride)
Deprecated CAS are 3411-11-8; 6654-32-6; 6654-33-7; 7313-81-7; 10535-38-3; 16760-69-3; 16760-70-6; 21820-34-8; 10535-38-3; 16760-69-3; 16760-70-6; 3411-11-8; 6654-32-6; 6654-33-7; 7313-81-7.
Trade names are pentazocine; L-pentazocine; Pentazocin; (-)-Levopentazocine; Pentazocinum; Pentazocine, L-dl-Pentazocine; cis-(-)-Pentazocine; Fortalin; Pentagin; Sosigon; Pentazocine 2R,6R,11R-form; Sosegon; Talwin; Fortal (Sanofi-Aventis); Fortral (Sanofi-Aventis); Fortwin (Terapia); Pangon (L.B.S.); Pentagin (Daiichi Sankyo); Sosegon (Sanofi-Aventis); Stopain (Beximco); Talwin PX (Sanofi-Aventis).
Physico-Chemical Properties of Pentazocine [1-5]
Molecular Formula C19H27NO
Molar Weight 285.424 g/mol
Melting Point 145.4-147.2 °C
Solubility: Water Solubility 0.122 mg/mL. Pentazocine hydrochloride: White to pale cream colored, odorless crystalline powder; there are two forms melting at about 218 deg & 254 °C, respectively; Sol 1 part in 30 parts of water, 1 part in 16 parts alcohol, 1 part in 4 parts chloroform; very slightly sol in acetone; practically insol in ether; 1% soln in water has a pH of 4 to 6. 1 g in greater than 1000 ml water, 11 ml alcohol, 2 ml chloroform, 42 ml ether. Solubility in acetone; sparingly sol in ethyl acetate. Pentazocine lactate: White to cream colored, odorless or almost odorless powder; sol 1 part in 25 chloroform, 1 part in 1500 of ether and sol 1 part in 25 of water, 1 part in 12 alcohol.
Color/Form: white to very pale tan crystalline powder
Odor: odorless or almost odorless
Taste: slightly bitter taste
Structural formulas of Pentazocines present on Figure 1.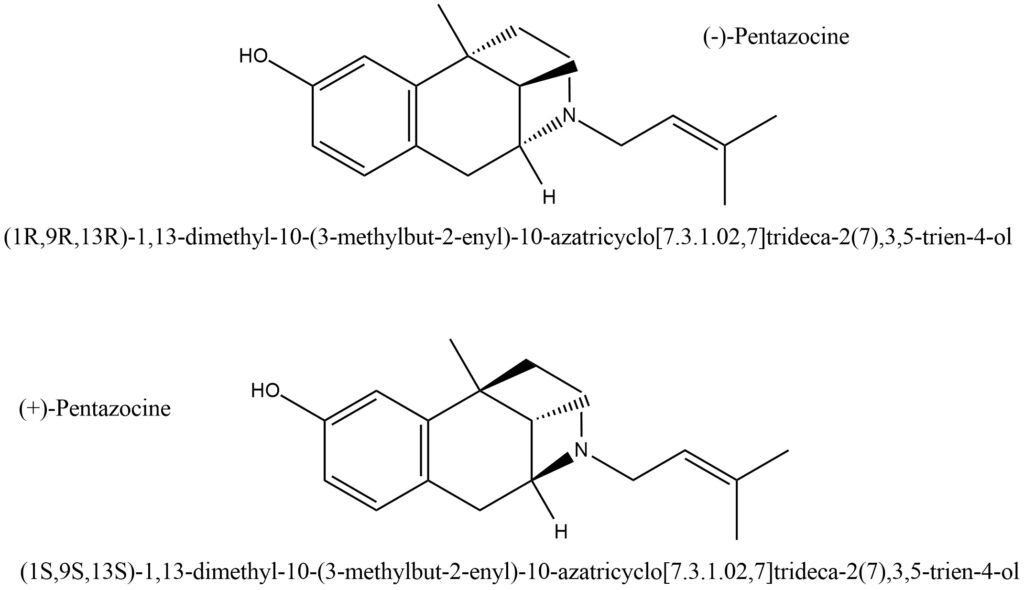 Injectable Solution and Oral Capsules possible of the Pentazocine can be seen in the pictures provided in Figure 2 and Figure 3.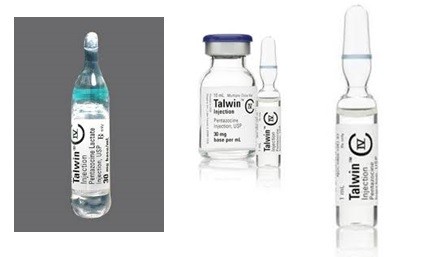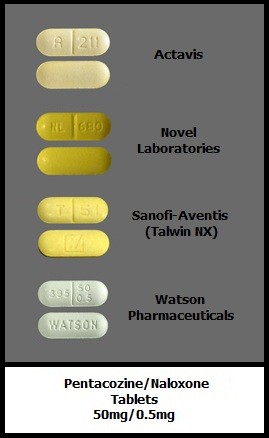 General Information, Pharmacology, Toxicity, Effects, Side Effects, Symptoms of Pentazocine Use, Recreational Use, Street Names, Prices and Approximate Dosage, Dangerous Interactions [6-10]
Pentazocine is used in the treatment of Pain.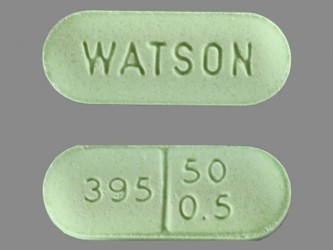 Pharmacology
Pentazocine is a highly potent analgesic that is comparable in its analgesic effects to 60mg (1 grain) of codeine when taken orally in a 50mg dose. Typically, significant analgesia sets in between 15 and 30 minutes after oral administration, with the duration of the effect lasting for three hours or more. The onset and duration of the pain relief effect and its degree are related to the severity of the pretreatment pain as well as the dose taken.
When compared to morphine and meperidine, Pentazocine weakly antagonizes their analgesic effects. It can produce incomplete reversal of morphine and meperidine-induced cardiovascular, respiratory, and behavioral depression. Pentazocine has less antagonistic activity than nalorphine, and it also possesses sedative activity.
Pentazocine has been widely used in the treatment of initial carcinogenic or postoperative pain, but its hepatic first-pass metabolism results in low oral bioavailability and high dose wastage. On the other hand, dezocine and tapentadol produce antinociception through the dual mechanisms of MOR-NRI, whereas pentazocine-induced antinociception does not involve norepinephrine reuptake inhibition. Moreover, tapentadol and dezocine cause less physical dependence than pentazocine and morphine because of NRI.
Toxicity
Multiple injection of pentazocine lactate has been associated with severe injection site necrosis and sepsis, which can sometimes lead to the amputation of the affected limb. It is worth noting that animal studies have demonstrated that Pentazocine is not as well tolerated when administered subcutaneously as it is when administered intramuscularly.
Effects, Side Effects and Symptoms of Pentazocine Use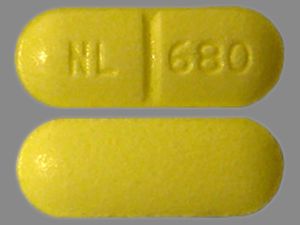 Multiple injections of pentazocine lactate have been associated with severe injection site necrosis and sepsis, which may require amputation of the affected limb. It is important to note that animal studies have shown that Pentazocine is less well tolerated when administered subcutaneously compared to intramuscularly.
Similar to morphine, pentazocine has side effects such as respiratory depression and constipation. However, due to its action on the kappa opioid receptor, it is more likely to cause psychotomimetic effects. High doses may result in high blood pressure and heart rate, and intravenous administration after a myocardial infarction should be avoided if possible, as it may increase cardiac workload.
Additionally, pentazocine may cause agranulocytosis, erythema multiforme, and toxic epidermal necrolysis, although these side effects are rare. It is worth noting that respiratory depression is subject to a ceiling effect, meaning that at a certain dose, the degree of respiratory depression will not increase even with further increases in dosage.
Pentazocine:
https://www.rxwiki.com/pentazocine
Recreational Use, Street Names, Prices and Approximate Dosage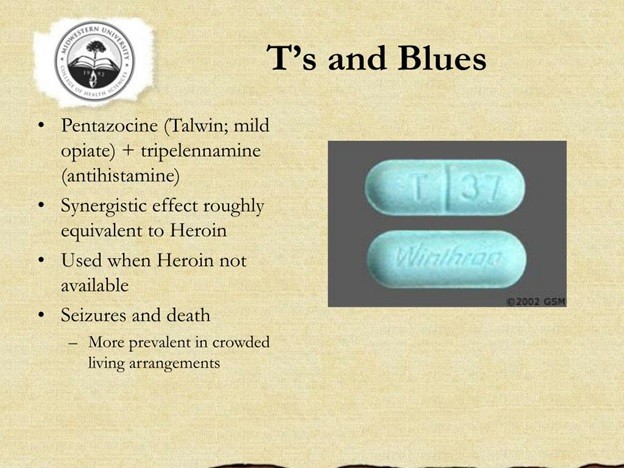 During the 1970s, recreational drug users stumbled upon an unexpected combination that produced a pleasurable high – pentazocine and tripelennamine, a first-generation antihistamine commonly sold under the brand names Pelamine and Pyribenzamine. The tablets of tripelennamine were typically blue, while the brand-name for pentazocine was Talwin, hence the slang term "Ts and blues" was coined. However, as health-care professionals and drug-enforcement officials became aware of this trend, naloxone, a mu opioid receptor antagonist, was added to oral pentazocine preparations to prevent misuse via injection, leading to a significant decrease in its recreational use. Pentazocine is available in various forms and doses, including Injectable Solution, Oral Capsule, Oral Tablet, and Rectal Suppository. The price for Talwin ranges from 0.47 to 14.78 USD depending on the form and dose. Overdosing on pentazocine may cause a range of symptoms, including anxiety, nightmares, hallucinations, dizziness, drowsiness, tingling, fast heartbeats, very slow breathing, or seizures.
Dangerous Interactions
Pentazocine is a medication that can have serious consequences if not used properly. It can slow or even stop your breathing and has the potential to become habit-forming. Misuse of pentazocine can lead to addiction, overdose, or even death, especially when taken by someone without a prescription, such as a child. If used during pregnancy, this medicine may cause life-threatening withdrawal symptoms in the newborn.
It is crucial to avoid combining pentazocine with alcohol or other drugs that cause drowsiness or slow breathing, as this can result in fatal side effects. Additionally, narcotics like pentazocine can interact with many other medications, leading to dangerous side effects or even death. Some drugs that can interact with pentazocine include other opioid pain medications or prescription cough medicine, as well as sedatives like Valium, Xanax, or Ativan. It is also important to avoid taking drugs that can cause drowsiness, such as sleeping pills, muscle relaxers, tranquilizers, antidepressants, or antipsychotic medications, while taking pentazocine.
While this list of medications is not exhaustive, it is important to note that pentazocine can interact with many other prescription and over-the-counter medicines, vitamins, and herbal products. Therefore, it is essential to inform your healthcare provider of all medications and supplements you are taking before starting treatment with pentazocine.
Legal Status
Pentazocine's legal classification has undergone changes over time. Initially, it was not regulated under the Controlled Substances Act in the United States. However, on October 1, 1971, a petition was filed with the Drug Enforcement Administration to reclassify it as a Schedule III drug. The petition was submitted by Joseph L. Fink III, a pharmacist and law student at Georgetown University Law Center. The petition was accepted for review on November 10, 1971.
After some deliberation, the DEA published a Final Rule on January 10, 1979, moving pentazocine to Schedule IV, effective from February 9, 1979. This was an unprecedented instance of a successful petition to reclassify a substance under the newly established Controlled Substances Act. Today, pentazocine is still classified as a Schedule IV drug in the United States, even after the addition of naloxone. Some states, such as Illinois and South Carolina (injectable form only), classify it in Schedule II, while others, like Kentucky, classify it in Schedule III.
Internationally, pentazocine is classified as a Schedule III drug under the Convention on Psychotropic Substances. It is designated as a controlled drug in many countries, with varying levels of regulation. In Australia, for example, it is classified as an S8 controlled drug. In Canada, it is a Schedule I drug. In Germany, it is listed as an Anlage III drug, requiring a special prescription form. In the UK, it is classified as a Class B drug. The United Nations has also designated pentazocine as a Psychotropic Schedule III drug.
Given its status as a controlled substance, the DEA assigns a unique ACSCN (Abuse-Controlled Substance Code Number) of 9720 to pentazocine. As a Schedule IV substance, the DEA does not assign an annual manufacturing quota for pentazocine in the United States.
Synthesis of Pentazocine [11-13]
Solution of C6H5CH2C1and 3,4-lutidine in Me2CO was allowed to stand overnight at room temperature. The product obtained is 1-Benzyl-3,4-dimethyl-pyridinium chloride. The Grignard reagent from p-methoxybenzyl chloride was added to 1-Benzyl-3,4-dimethyl-pyridinium chloride in Et2O. The mixture was stirred and refluxed for 1.5 h and poured into a solution of NH4Cl in H2O. Crude bianisyl was removed by filtration, the Et2O layer separated and washed with H2O, and the dihydropyridine isolated as a crude residue by removal of the Et2O. This was reduced in EtOH with NaBH4 in H2O. The reaction mixture was stirred overnight at room temperature and the EtOH then removed in vacuo. The aqueous phase was extracted with Et2O and the latter extracted in several portions with a total of 85% H3PO4 in H2O. Addition of excess 35% aqueous NaOH to the acid extract, extraction of the resultant oil into Et2O, drying, filtration, and concentration afforded of crude base. This was added to oxalic acid in Me2CO to precipitat of 1-Benzyl-2-(p-methoxybenzyl)-3,4-dimethyl-1,2,5,6-tetrahydropyridine oxalate. A mixture of 1-Benzyl-2-(p-methoxybenzyl)-3,4-dimethyl-1,2,5,6-tetrahydropyridine oxalate, HOAc and of 62% HBr was refluxed for 22 h, concentrated in vacuo, and diluted with i-PrOH. The slurry was stirred. concentrated, cooled, and filtered. The product was taken up in EtOH and precipitated with about an equal volume of Et2O to give of 3-benzyl-6,11-dimethyl-1,2,3,4,5,6-hexahydro-2,6-methanobenzo[d]azocin-8-ol as the hydrobromide. Reduction of 3-benzyl-6,11-dimethyl-1,2,3,4,5,6-hexahydro-2,6-methanobenzo[d]azocin-8-ol as the hydrobromide in DMF using a 10% Pd-C catalyst gave, after removal of the catalyst and solvent and basification with NH4OH. Product is 6,11-dimethyl-1,2,3,4,5,6-hexahydro-2,6-methanobenzo[d]azocin-8-ol. Alkylation of this base with l-bromo-3-methyl-2-butene to give Pentazocine has been described.
The production of Pentazocine utilizing the process depicted in Figure 4.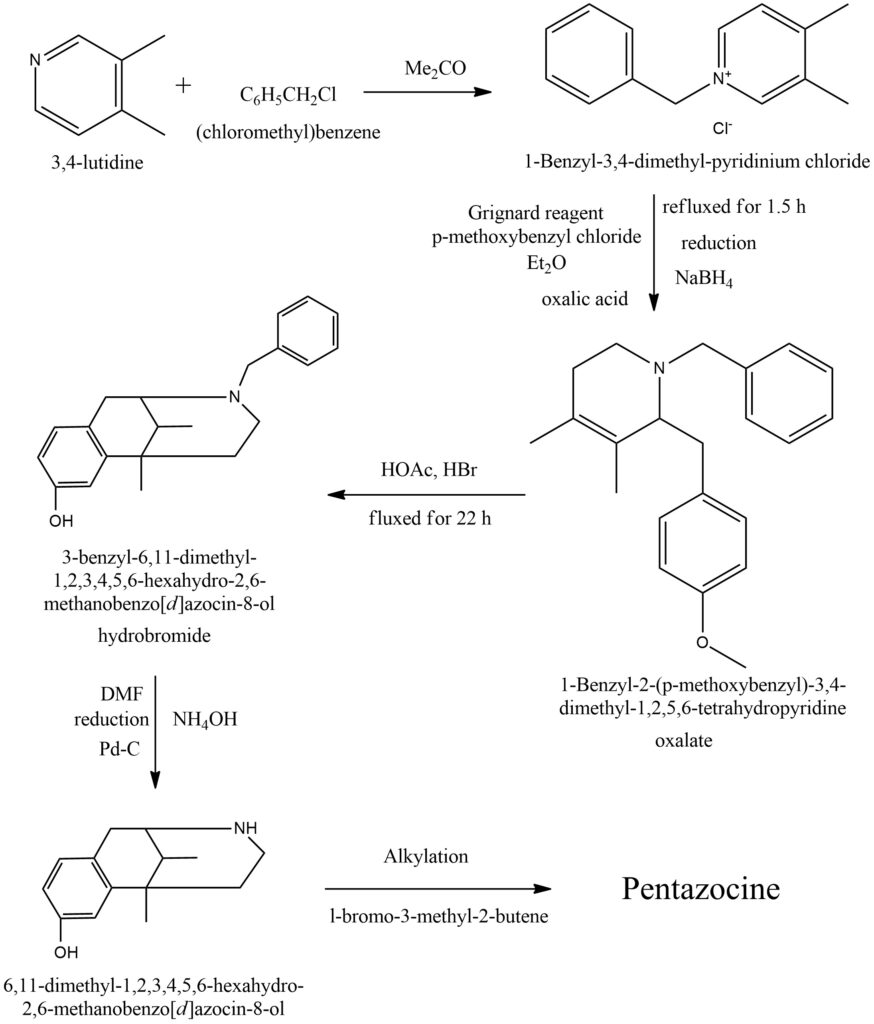 Conclusion
(-)-Pentazocine belongs to a class of drugs known as narcotics which are characterized by their ability to induce sleep, somnolence or stupor. These substances can be either natural or synthetic derivatives of opium or morphine. Narcotics are known for their potent analgesic effects and are often associated with opioid-related disorders. Pentazocine, an approved drug, contains two enantiomers, one of which is (-)-pentazocine. This particular enantiomer is classified as a κ-opioid receptor agonist, whereas the other enantiomer, (+)-pentazocine, has ten-fold greater affinity for the σ receptor. Pentazocine is considered a mixed agonist-antagonist opioid pain medication, acting as an agonist at the κ and σ opioid receptors while displaying weak antagonistic action at the μ receptor.
Bibliography