Latest posts by Cas Aarden
(see all)
Introduction
This article provides an overview of lisdexamfetamine, more commonly known as Vyvanse, a central nervous system stimulant used to treat attention deficit hyperactivity disorder (ADHD) in children and adults. The chemical and physical properties of the medication, its synthesis, dosage guidelines, effects and side effects, and potential benefits are described.
What is Lisdexamfetamine (Vyvanse)?
Lisdexamfetamine (Vyvanse) is a central nervous system stimulant that is used to treat attention deficit hyperactivity disorder (ADHD) in children and adults. It is an amphetamine-based medication, which means that it works by increasing levels of certain neurotransmitters in the brain to improve focus, concentration, and attention. In addition to its use as an ADHD treatment, Vyvanse is also used to treat binge eating disorder. Vyvanse is available in capsule, chewable tablets and an orally disintegrating tablet. The effects of Vyvanse can last up to 14 hours.
Chemical and Physical Properties of Lisdexamfetamine
Lisdexamfetamine is a type of substituted amphetamine produced by combining dextroamphetamine with the carboxylate group of the essential amino acid L-lysine. This reaction proceeds while preserving the stereochemistry, resulting in lisdexamfetamine existing as a single stereoisomer. There are many potential designations for lisdexamfetamine according to IUPAC nomenclature, but it is usually named as N-[(2S)-1-phenyl-2-propanyl]-L-lysinamide or (2S)-2,6-diamino-N-[(1S)-1-methyl-2-phenylethyl]hexanamide.
Amine functional groups tend to be vulnerable to oxidation from exposure to air, and thus medications containing them are usually formulated as salts. This augments stability, enhances water solubility, and also elevates the melting point by converting a molecular compound into an ionic compound, thereby guaranteeing a solid product. In the instance of lisdexamfetamine, this is accomplished by combining with two equivalents of methanesulfonic acid to form the dimesylate salt, a water-soluble (792 mg/mL) powder with a hue that varies from white to off-white.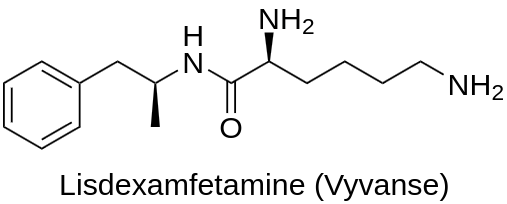 Physico-Chemical Properties of Lisdexamfetamine (Vyvanse)
Molecular Formula C15H25N3O
Molar Weight 263.385 g/mol
Solubility: Water Solubility is 792 mg/mL at 25°C (salt form)
Color/Form: off-white powder
Other brand names: Aduvanz, Elvanse, Juneve, Lisdexamfetamine Dimesylate, Samexid, Tyvense, Venvanse, and Vyvanse
Lisdexamfetamine (Vyvanse) synthesis
This method of synthesis makes use of commercially available L-lysine and D-amphetamine reactants. Conversion of the L-lysine to intermediate B allows for the amide coupling with D-amphetamine (C). Various protective groups (Pg) on the lysine intermediate A are said to be suitable for the present synthetic procedure (as described in Greene, T. W.; Wuts, P. G. M. Protective Groups in Organic Synthesis, 2nd ed.: Wiley: New York, 1991). The protecting groups (Pg) ought to undergo deprotection under hydrogenation conditions, and preferably feature at least one aromatic group. One of the preferred protective groups is benzyloxycarbonyl.
Amide coupling of lysine intermediate B and D-amphetamine (C) to give lysine-amphetamine D can be done with a variety of different leaving groups. Especially favored leaving groups include chloro and N-hydroxysuccinimidyl. Lysine-amphetamine D is desirably a solid crystal to be purified by recrystallization. The next step in the synthetic process involves the removal of the amino protective groups from lysine-amphetamine intermediate D. To remove benzyloxycarbonyl protective groups, for instance, hydrogenation in the presence of a palladium catalyst (e.g., Pd/C) can be used. The salt form of LDX can be obtained by reacting LDX with the desired acid. For example, the dimesylate salt of LDX is achieved by combining LDX with methanesulfonic acid.
Further advantages of the synthetic route include the production of lisdexamfetamine in high enantiomeric purity and free of toxic impurities and the provision of synthetic intermediates that can be used directly in the next reaction without costly or time-consuming purification of the synthetic intermediate. It is important to generate Lisdexamphetamine dimesylate with high enantiomeric purity, as the authorized remedy for attention-deficit hyperactivity disorder is a single enantiomer. Thus, a manufacturing process to supply the drug must be able to produce lisdexamfetamine dimesylate with high enantiomeric purity.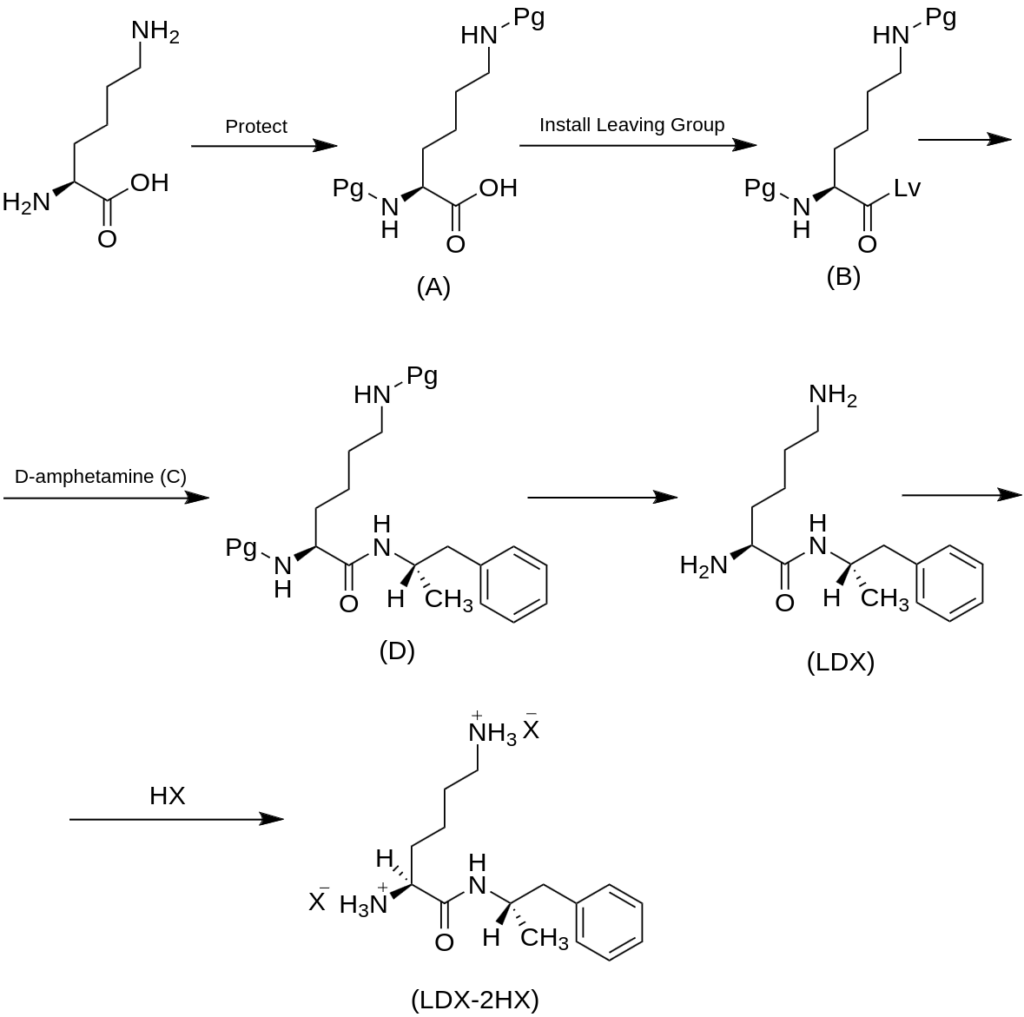 How Does Lisdexamfetamine (Vyvanse) Work?
Lisdexamfetamine is an inactive precursor that is metabolized in the body to the pharmacologically active compound dextroamphetamine. After ingestion, lisdexamfetamine is broken down by enzymes in red blood cells to L-lysine, a naturally occurring essential amino acid, and dextroamphetamine. The conversion of lisdexamfetamine to dextroamphetamine is not influenced by gastrointestinal pH and is not likely to be impacted by changes in normal gastrointestinal transit times.
https://www.youtube.com/watch?v=FsWblLJSI_g
Mechanism of Action Animation | ADHD
The optical amphetamine isomers, i.e., dextroamphetamine and levoamphetamine, are TAAR1 agonists and vesicular monoamine transporter 2 inhibitors that can access monoamine neurons; this enables them to release monoamine neurotransmitters (dopamine, norepinephrine, and serotonin, among others) from their storage sites in the presynaptic neuron, as well as prevent the reuptake of these neurotransmitters from the synaptic cleft.
Lisdexamfetamine (Vyvanse) Dosage, Effects and Potential Side Effects
Dosage
The recommended dose of Lisdexamfetamine (Vyvanse) is 20-70 mg/day depending on the patient's age, weight, and medical condition.
Threshold 10 mg
Light 20 – 30 mg
Common 30 – 60 mg
Strong 60 – 90 mg
Heavy 90 mg +
Effects
Cognitive performance
In 2015, a systematic review and a meta-analysis of high quality clinical trials uncovered that, when consumed at low (therapeutic) amounts, amphetamine furnishes unassuming yet perceptible upgrades in cognizance, including working memory, long-term episodic memory, inhibitory control, and a few angles of consideration, in ordinary sound grown-ups. A systematic review from 2014 found that low doses of amphetamine additionally improve memory consolidation, thusly prompting improved memory of data. Therapeutic doses of amphetamine additionally upgrade cortical system effectiveness, an impact which goes about as a mediator in improving working memory in all individuals. Amphetamine and other ADHD energizers likewise improve task saliency (inspiration to play out an errand) and increment excitement (wakefulness), thusly advancing goal-oriented conduct. Stimulants, for example, amphetamine can improve execution on troublesome and exhausting errands and are utilized by a few understudies as a study and test-taking help. Be that as it may, high amphetamine doses that are over the therapeutic reach can meddle with working memory and different parts of cognitive control.
Physical performance
Amphetamine is utilized by certain competitors for its mental and athletic performance-improving impacts, for example, expanded perseverance and alertness. In sound individuals at oral therapeutic doses, amphetamine has been appeared to expand muscle quality, quickening, athletic performance in anaerobic conditions, and continuance (i.e., it defers the beginning of weakness), while improving response time. Amphetamine and other dopaminergic medications additionally increment power yield at fixed levels of saw exertion by overriding a "security switch", permitting the center temperature limit to increment so as to get to a save limit that is typically off-limits. At therapeutic doses, the unfavorable impacts of amphetamine don't impede athletic performance; be that as it may, at much higher doses, amphetamine can incite impacts that seriously impede performance, for example, quick muscle breakdown and raised body temperature.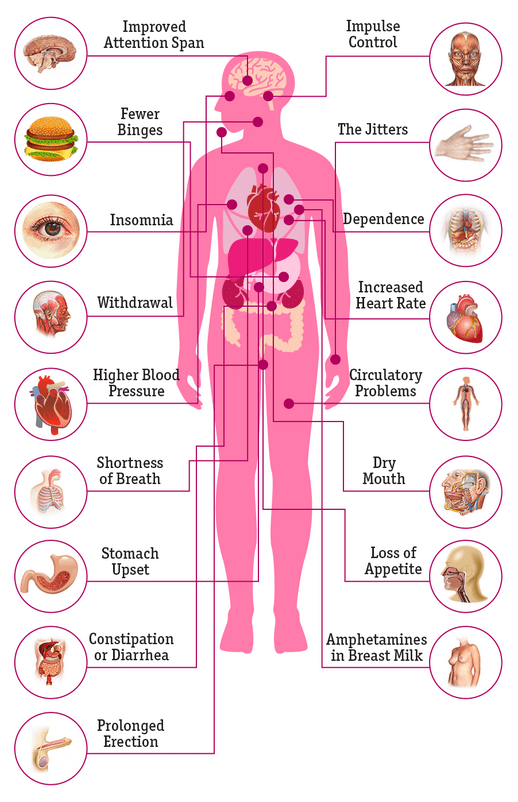 Potential Side Effects
Products containing lisdexamfetamine have a comparable level of drug safety to those containing amphetamine. Common side effects of lisdexamfetamine seen in short-term clinical trials (≥5% incidence) are decreased appetite, insomnia, dry mouth, weight loss, irritability, upper abdominal pain, nausea, vomiting, diarrhea, constipation, increased heart rate, anxiety, dizziness, and feeling jittery. Such effects may differ between adults, adolescents, and children. Uncommon yet severe side effects of lisdexamfetamine may include mania, sudden cardiac death in those with preexisting heart conditions, stimulant psychosis, and serotonin syndrome.
Lisdexamfetamine (Vyvanse) Legal Status
Lisdexamphetamine is accepted for medicinal purposes with a physician's directive, yet in the majority of countries it is illicit to exchange or possess without a prescription. When moving inside the Schengen Region, which involves the vast majority of Europe, a special permit is mandatory, apart from the United Kingdom.
AU: S8 (Controlled drug)
BR: Class A3 (Psychoactive drugs)
CA: Schedule I
DE: Anlage III (Special prescription form required) Narcotics Act, Schedule III
UK: Class B
US: Schedule II (Prescription only)
EU: Prescription only
In general: Prescription only
Conclusion
In conclusion, lisdexamfetamine (Vyvanse) is a medication commonly used to treat ADHD and binge eating disorder. The chemical and physical properties of the medication have been described, including its synthesis, dosage guidelines, and effects and side effects. Lisdexamfetamine works by increasing levels of certain neurotransmitters in the brain to improve focus, concentration, and attention. It is important to generate Lisdexamphetamine dimesylate with high enantiomeric purity, as the authorized remedy for ADHD is a single enantiomer. Understanding the chemistry of lisdexamfetamine and its effects on the body is essential for prescribing it safely and effectively.
Bibliography
Bauer, Michael J., et al. "Methods and compositions for preparing lisdexamfetamine and salts thereof." U.S. Patent No. 8,779,191. 15 Jul. 2014. https://patents.google.com/patent/US8779191B2/en
Blick, Stephanie KA, and Gillian M. Keating. "Lisdexamfetamine." Pediatric Drugs 9 (2007): 129-135. https://link.springer.com/article/10.2165/00148581-200709020-00007
Frampton, James E. "Lisdexamfetamine dimesylate: a review in paediatric ADHD." Drugs 78 (2018): 1025-1036. https://link.springer.com/article/10.1007/s40265-018-0936-0
Faraone, Stephen V., et al. "Dose response effects of lisdexamfetamine dimesylate treatment in adults with ADHD: an exploratory study." Journal of attention disorders 16.2 (2012): 118-127. https://journals.sagepub.com/doi/pdf/10.1177/1087054711403716
Ward, Kristen, and Leslie Citrome. "Lisdexamfetamine: chemistry, pharmacodynamics, pharmacokinetics, and clinical efficacy, safety, and tolerability in the treatment of binge eating disorder." Expert Opinion on Drug Metabolism & Toxicology 14.2 (2018): 229-238. https://www.tandfonline.com/doi/abs/10.1080/17425255.2018.1420163
https://psychonautwiki.org/wiki/Lisdexamfetamine
https://en.wikipedia.org/wiki/Lisdexamfetamine
https://www.healthline.com/health/adhd/vyvanse-effects-on-the-body