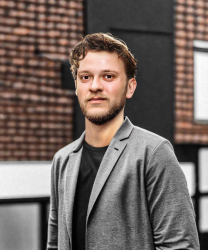 Latest posts by Cas Aarden
(see all)
Abstract
Methylamine is an organic compound with a formula of CH3NH2. This colorless gas is a derivative of ammonia, but with one hydrogen atom being replaced by a methyl group. It is the simplest primary amine. This article presents a comprehensive overview of Methylamine, including its general information, physico-chemical properties, Chemical Reactions, synthesis of Methylamine, conclusion, and bibliography.
General Information About Methylamine [1-5]
Other synonyms names of Methylamine are: Methanamine; Aminomethane; Monomethylamine; Carbinamine; Mercurialin; N-Methylamine; Methylaminen; Metilamine; Metyloamina; Anhydrous Methylamine; Methylamine aq; monomethyl amine
IUPAC Names of Methylamine: methanamine
CAS number is 74-89-5
Related CAS numbers are 14965-49-2 (hydriodide); 17000-00-9 (hydride); 22113-87-7 (nitrate); 33689-83-7 (sulfate [2:1]); 593-51-1 (hydrochloride); 6876-37-5 (hydrobromide)
Physico-Chemical Properties of Methylamine [1-5]
Molecular Formula CH3NH2
Molar Weight 31.057 g/mol
Melting Point -38 ℃ (Alfa Aesar) and -93℃ (Sigma-Aldrich)
Boiling Point -6.3 ℃ (Sigma-Aldrich) and 49℃ (Alfa Aesar)
Density 0,7 g/cm3 at 20 °C (Sigma-Aldrich) and 0.899 (Alfa Aesar)
Solubility: Miscible with water, ethanol, benzene, acetone and ether.
Color/Form: Color colorless Compressed gas
Odor: Colorless gas with a fish- or ammonia-like odor
Structural formula present on Figure 1.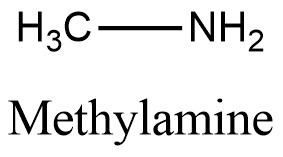 Crystalline solid of the Methylamine Hydrochloride can be seen in the picture provided in Figure 2.
Chemical Reactions [1-7]
Methylamine, a multifaceted organic compound, finds its way into various forms, including solutions in methanol, ethanol, tetrahydrofuran, or water, as well as an anhydrous gas stored in pressurized metal containers. For industrial purposes, the anhydrous variant is transported in pressurized railcars and tank trailers. An unmistakable trait of methylamine is its potent odor, akin to that of rotten fish.
One of the primary utilities of methylamine lies as a building block in the synthesis of numerous commercially available compounds. Its relevance is further enhanced as it emerges during putrefaction and serves as a substrate for methanogenesis. Notably, methylamine production occurs during PADI4-dependent arginine demethylation.
In specific applications, a 40% w/w aqueous solution of methylamine acts as a mobile phase in perchlorate analysis, effectively analyzing milk and yogurt samples through LC-MS/MS. Moreover, methylamine plays a vital role in synthesizing 9-fluorenylmethyl N-methylcarbamate, tert-butyl N-methylcarbamate, 7-methylamino-2-(2-quinolyl)tropone, 2,5-meso-pyrrolidines, and 2-(4-chlorophenyl)-N-methylacetamide.
Caution must be exercised while handling methylamine, as it exhibits a LD50 (mouse, s.c.) of 2.5 g/kg. To safeguard against potential hazards, the Occupational Safety and Health Administration (OSHA) and National Institute for Occupational Safety and Health (NIOSH) have set occupational exposure limits at 10 ppm or 12 mg/m3 over an eight-hour time-weighted average.
Notably, in the United States, methylamine is categorized as a List 1 precursor chemical by the Drug Enforcement Administration (DEA) due to its involvement in the illicit production of methamphetamine.
Reactions
Methylamine (CH3NH2) reacts with hydrochloric acid (HCl) to form a salt known as methylammonium chloride (CH3NH3Cl). Figure 3.

Methylamine Oxidation on the air to Methylhydroxylamine. Figure 4.

Methylamine participates in the amid formation reaction, where it reacts with carbonyl compounds such as aldehydes or chloranhydrides to form the corresponding methylamides. Figure 5.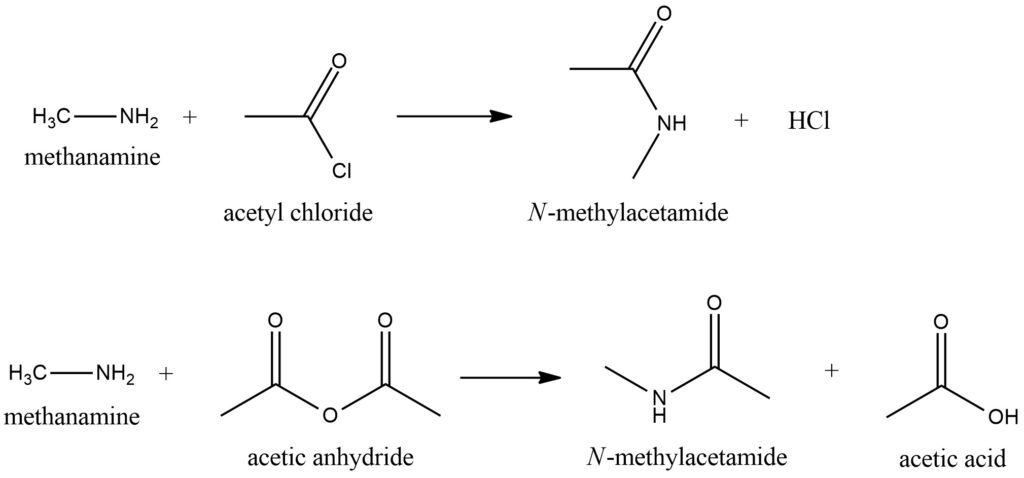 Methylamine participates in the imine formation reaction, where it reacts with ketones or aldehydes to form the corresponding imines. Figure 6.
The interaction of methylamine with oxalyl chloride. In laboratory practice, instead of using the gaseous and hazardous phosgene, oxalyl chloride can be used. It reacts with amines and amides to form the corresponding isocyanates, liberating carbon dioxide. Figure 7.

Methylamine's interaction with haloalkanes (alkyl halides) leads to a reaction known as nucleophilic substitution. In this reaction, the nucleophilic nitrogen atom in methylamine attacks the electrophilic carbon atom in the haloalkane, resulting in the substitution of the halogen atom with the methylamine group. Figure 8.

Synthesis of Methylamine [8-10]
Methylamine was initially synthesized in 1849 by Charles-Adolphe Wurtz through the hydrolysis of methyl isocyanate and its related compounds. An illustrative method involves utilizing the Hofmann rearrangement, resulting in the production of methylamine from acetamide and bromine gas.
In laboratory settings, the preparation of methylamine hydrochloride is achievable through several alternative methods. One such approach involves the reaction of formaldehyde with ammonium chloride. The resulting colorless hydrochloride salt can be transformed into an amine by introducing a potent base, such as sodium hydroxide (NaOH). Synthesis of starting from and according to the scheme Figure 9.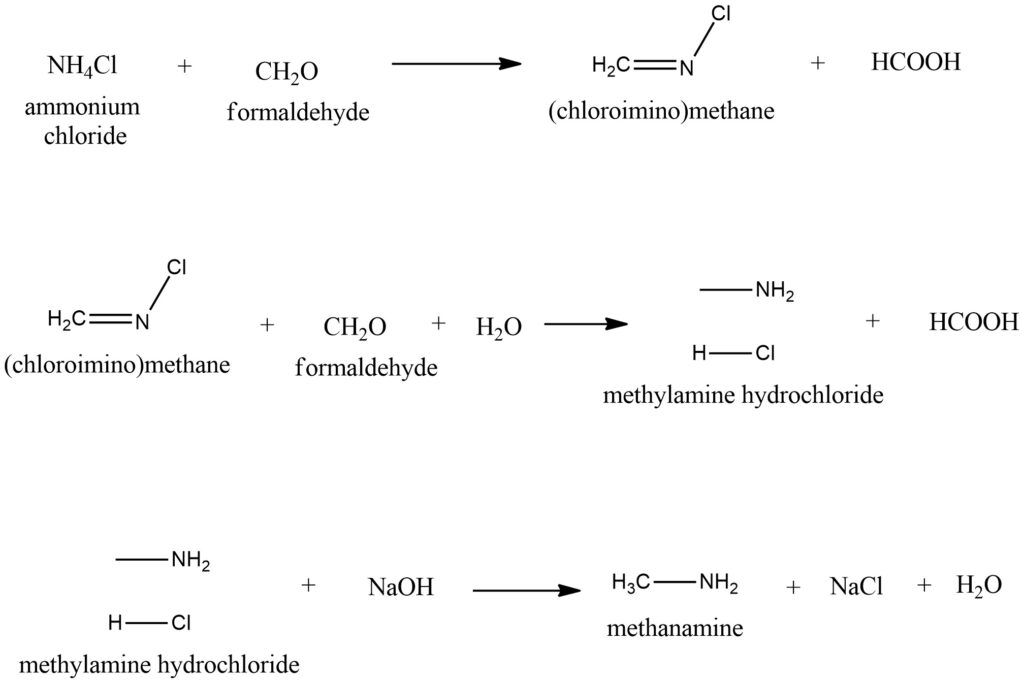 Another method for the synthesis of methylamine involves the reduction of nitromethane using zinc and hydrochloric acid. This process is commonly known as the Leuckart-Wallach reaction. In this reaction, nitromethane (CH3NO2) reacts with zinc (Zn) and hydrochloric acid (HCl) to form methylamine (CH3NH2) as one of the products.
Conclusion
Methylamine is a colorless gas with a pungent odor, soluble in water and alcohols. It serves as a precursor for the synthesis of methamphetamine, and as a result, it has been listed as a controlled substance in the USA. Commercially, it is available as methylamine hydrochloride, as well as in aqueous and alcoholic solutions.The distinctive pungent odor of methylamine can be a potential safety concern and requires careful handling during its use.
Bibliography
Marvel, C. S.; Jenkins, R. L. "Methylamine Hydrochloride". Organic Syntheses.; Collective Volume, vol. 1, p. 347, 1941. DOI: 10.15227/orgsyn.003.0067 http://www.orgsyn.org/demo.aspx?prep=cv1p0347
Gatterman, Ludwig & Wieland, Heinrich (1937). Laboratory Methods of Organic Chemistry. Edinburgh, UK: R & R Clark, Limited. pp. 157–158.