Latest posts by Cas Aarden
(see all)
Abstract
BMK-glycidates (methyl, ethyl and other glycidic acid ethers), commonly referred to as a "glycidic esters", are an organic compounds. This compound exhibits notable potential due to its capability to be converted into phenyl-2-propanone (P2P) via hydrolysis. P2P is an important precursor in syntheses of numerous organic compounds and pharmaceutical substances. Understanding BMK glycidates ethers syntheses and properties is thus of great importance. This article provides a comprehensive overview of BMK glycidates, encompassing its general information, physico-chemical properties, chemistry details, legal status, synthesis methods, concluding remarks, and an extensive bibliography.
General Information About BMK Glycidates [1-8]
Other synonyms names of BMK methyl glycidate are: methyl-2-methyl-3-phenylglycidate; 2-Methyl-3-phenyloxirane-2-carboxylic acid methyl ester
Other synonyms names of BMK ethyl glycidate are: Ethyl 2,3-epoxy-2-methyl-3-phenylpropionate; 2-Oxiranecarboxylic acid, 2-methyl-3-phenyl-, ethyl ester; Ethyl methylphenylglycidate; 2-methyl-3-phenyl-2-oxiranecarboxylic acid ethyl ester
IUPAC Name of BMK methyl glycidate: methyl 2-methyl-3-phenyloxirane-2-carboxylate
IUPAC Name of BMK ethyl glycidate: Ethyl 2-methyl-3-phenyl-2-oxiranecarboxylate
CAS numbers are 80532-66-7 (BMK methyl glycidate);
41232-97-7 (BMK ethyl glycidate); 5449-12-7 (BMK glycidic acid sodium salt)
Physico-Chemical Properties of BMK Glycidates [1-8]
Molecular Formula C11H12O3 (BMK methyl glycidate)
C12H14O3 (BMK ethyl glycidate)
Molar Weight 192.21 g/mol (BMK methyl glycidate)
206.2 g/mol (BMK ethyl glycidate)
Boiling point 255.9±30.0 °C at 760 mmHg (BMK methyl glycidate); 145 °C at 23,99 hPa (BMK ethyl glycidate)
Melting Points 140-144 °C (non-literature data for BMK methyl glycidate); 73-77 °C (BMK Glycidic Acid)
Solubility: DMF: 20 mg/ml; DMSO: 25 mg/ml; Ethanol: 20 mg/ml; PBS (pH 7.2): 1 mg/ml; at 25 °C slightly soluble in water
Color/Form: white or light yellow solid
Structural formulas present on Figure 1.
Powder and crystalline solid possible of the BMK Methyl Glycidate can be seen in the pictures provided in Figure 2 and Figure 3.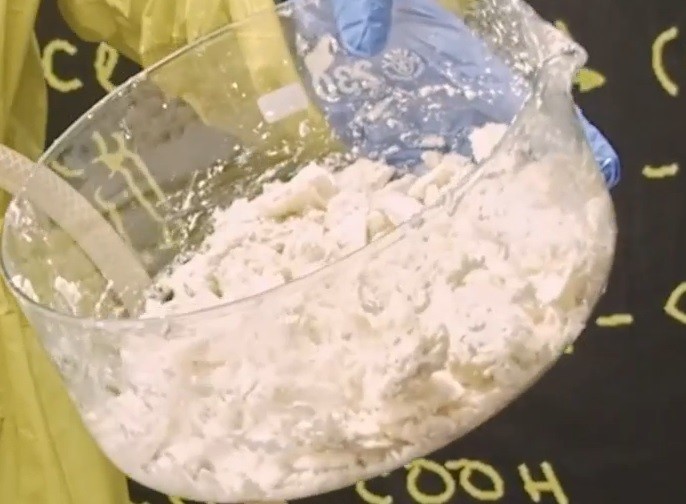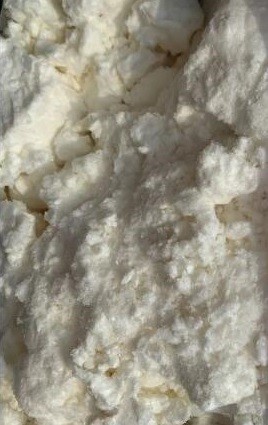 Chemistry Informationof BMK glycidates [9-15]
BMK glycidates, a versatile compounds, can be readily converted into phenylacetone (P2P) through hydrolysis. This transformation has garnered significant attention since the pioneering work of Erlenmeyer and Darzens, who established a widely employed methodology for aromatic aldehydes and ketones. The Darzens reaction, also known as the Darzens condensation or glycidic ester condensation, involves the reaction of a carbonyl compound with an α-halo ester in the presence of a base, resulting in the formation of an α,β-epoxy ester, commonly referred to as a "glycidic ester".
BMK methyl and ethyl glycidates serves as an analytical reference standards and is recognized as a precursors to phenylacetone. However, it is important to note that phenylacetone has been associated with its illicit use in the synthesis of methamphetamine and amphetamine. Nonetheless, BMK methyl glycidate finds extensive applications in organic synthesis, pharmaceutical research and development, and various scientific research domains.
The Darzens reaction, initially discovered by Auguste Georges Darzens in 1904, offers a valuable synthetic tool for the formation of glycidic esters. The reaction involves the condensation of aldehydes or ketones with α-halo esters, facilitated by bases such as sodium ethoxide or sodium amide. The resulting α,β-epoxy esters, or glycidic esters, possess unique properties and are of particular interest due to their ability to be converted into aldehydes and ketones with higher carbon content through hydrolysis and subsequent decarboxylation. Notably, the reaction can also lead to rearrangements when aldehydes are formed.
Darzens described an alternative procedure utilizing the reaction of aldehydes and ketones with ethyl dichloroacetate and dilute magnesium amalgam. Additionally, various stabilized α-halo anions, such as diazo ketones, imines, nitriles, phosphonates, and sulfones, have been employed in the reaction. The Darzens reaction has also been explored for the preparation of aziridines, and asymmetric variants have been reported. While hydroxide ions can be utilized to generate the anion, nonnucleophilic bases such as t-BuOK, LiHMDS, or LDA are typically preferred to avoid SN2 displacement of the electrophile. The choice of the halide component of the nucleophilic reactant plays a crucial role, with stronger leaving groups like bromine and iodine leading to the formation of γ-keto esters after subsequent saponification and decarboxylation steps.
The versatility of the Darzens reaction allows for a broad range of substrates and reaction conditions, making it a subject of extensive study. Further exploration into the detailed mechanisms and applications of this reaction goes beyond the scope of this discussion (Figure 4).

The next stage in the process involves the formation of sodium salts by reacting BMK glycidates with sodium hydroxide (NaOH). This reaction leads to the formation of the corresponding sodium salts of BMK glycidates. The sodium salts are then subjected to hydrolysis using hydrochloric acid (HCl). During hydrolysis, the sodium salts of BMK glycidates are treated with a solution of hydrochloric acid, which results in the cleavage of the ester bonds. This reactions leads to the formation of phenylacetone (P2P) and sodium chloride (NaCl) as byproducts. Phenylacetone is the desired compound obtained through this hydrolysis process. The hydrolysis step is crucial as it enables the conversion of BMK glycidates into phenylacetone. (Figure 5).

Glycidic esters can be alternatively synthesized through the nucleophilic epoxidation of an α,β-unsaturated ester. However, this method necessitates the prior synthesis of the alkene substrate. On the other hand, the Darzens condensation enables the simultaneous formation of the carbon-carbon connectivity and epoxide ring in a single reaction.
The cost of labs is $1441 for 50 mg, while prices for other sources in China amount to $100 per 1 kg.
Legal Status
BMK glycidates are currently listed as a scheduled drug precursor in the European Union (EU). It is subject to control measures or is considered illegal according to the following legislations:
Switzerland (CH): BMK glycidates are regulated under the Swiss Controlled Substances Act (BetmVV-EDI) and is included in the Narcotics List F.
However, as of 2023, BMK glycidates are legally available in USA, Ukraine and China.
Synthesis of BMK Methyl Glycidate [15, 16]
The synthesis of BMK methyl glycidate involves a condensation of benzaldehyde with methylchloropropionate at a temperature range of 0-10℃, in the presence of sodium ethoxide. A comprehensive description of the synthesis procedure, along with a video demonstration, can be found at reference [16].
The synthesis process begins with the starting materials, following the scheme depicted in Figure 6.

Conclusion
BMK glycidates are an organic compounds known as a "glycidic esters" and serves as a precursors to phenylacetone. However, it is important to note that BMK methyl glycidate has been included in the List of scheduled drug precursors in the EU and is currently illegal in some countries. The regulation and restriction of BMK glycidates are due to its potential misuse in the illicit synthesis of controlled substances. Additionally, BMK glycidates possesses the ability to undergo hydrolysis, leading to the easy conversion into phenylacetone (P2P). This transformation is of particular interest in various fields, including organic synthesis and pharmaceutical research.
Bibliography