Latest posts by Cas Aarden
(see all)
Abstract
Fluoxetine, a widely prescribed psychiatric medication, is an antidepressant substance belonging to the selective serotonin reuptake inhibitor (SSRI) class. It is commonly used in the treatment of major depressive disorder, obsessive compulsive disorder, bulimia nervosa, panic disorder, premenstrual dysphoric disorder, and bipolar I. Acting by inhibiting the presynaptic reuptake of serotonin, Fluoxetine increases the levels of 5-hydroxytryptamine (5-HT) in various areas of the brain. Despite its effectiveness in managing depression and other pathologies, Fluoxetine has limited recreational potential and may reduce the effects of serotonergic substances such as psychedelics and entactogens. Individuals who are prescribed SSRIs and wish to use hallucinogenic substances for psychonautic or recreational purposes are advised to research potential interactions beforehand and taper off SSRIs if necessary. This article provides a comprehensive overview of Fluoxetine, covering its general information, physico-chemical properties, pharmacology in recreational use, effects and symptoms, hepatotoxicity, use street names, prices and approximate dosage, dangerous interactions, legal status, synthesis of N-methyl-3-phenyl-3-[4-(trifluoromethyl)phenoxy]propan-1-amine, conclusion, and bibliography. Gain insights into the science and practical considerations of Fluoxetine, the powerful antidepressant and psychostimulant.
General Information About Prozac [1-3]
Other synonyms names of Fluoxetine are: Pulvules; Portal; Eufor; Animex-On; Fluoxetina; Fluval; Fluoxetinum; Fluctine; Fluoxac; Fludac; Fluxil; (+-)-N-Methyl-gamma-(4-(trifluoromethyl)phenoxy)benzenepropanamine; dl-3-(p-Trifluoromethylphenoxy)-N-methyl-3-phenylpropylamine; Benzenepropamine
IUPAC Name of Fluoxetine: N-methyl-3-phenyl-3-[4-(trifluoromethyl)phenoxy]propan-1-amine
CAS numbers are 54910-89-3; 56296-78-7 Fluoxetine hydrochloride
Related CAS are 57226-07-0
Trade names are Act Fluoxetine, Prozac, Sarafem, Symbyax
Physico-Chemical Properties of Prozac [1-3]
Molecular Formula C17H18F3NO
Molar Weight 309.33 g/mol
Boiling point 395.1±42.0 °C at 760 mmHg
Melting Point 180.5 °C
Flash Point: 192.8±27.9 °C
Solubility: 10 mM in DMSO;
Color/Form: white crstalline powder
Structural formula of Fluoxetine present on Figure 1.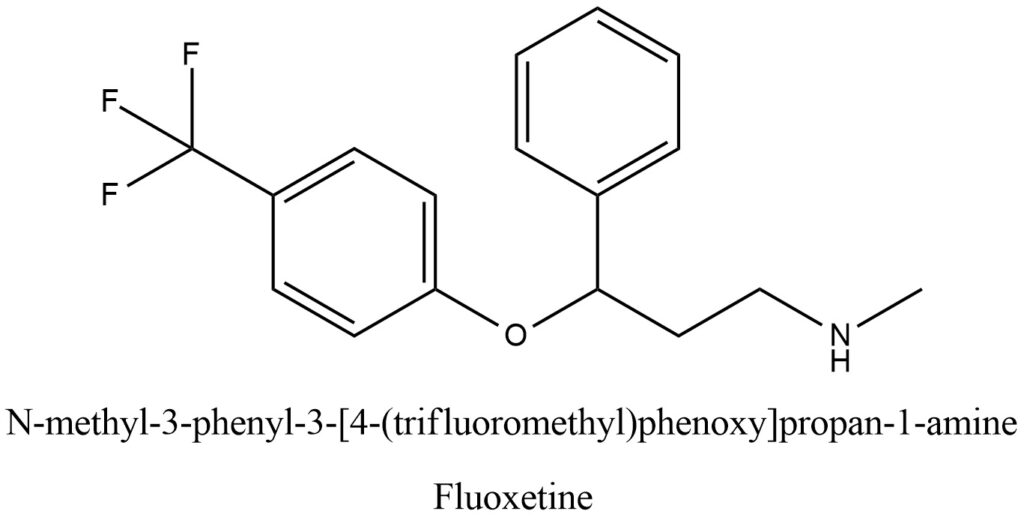 Pills of the Fluoxetine can be seen in the pictures provided in Figure 2 and Figure 3.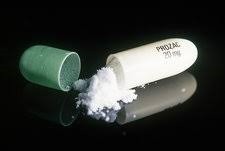 General Information of Prozac in Recreational Use and Pharmacology [4-8]
Fluoxetine, a derivative of diphenhydramine and a selective serotonin reuptake inhibitor (SSRI), boasts a diverse range of pharmacological activities including antidepressant, anti-anxiety, antiobsessional, and antibulimic effects. Upon administration, fluoxetine binds to presynaptic serotonin (5-HT) receptors, resulting in negative allosteric modulation of the receptor complex and blocking recycling of serotonin. This leads to enhanced serotonergic function through accumulation of serotonin in the synaptic space, ultimately resulting in long-term desensitization and downregulation of 5-HT receptors. The antidepressant, anti-anxiety, antiobsessional, and antibulimic effects of fluoxetine are thought to arise from this mechanism. Furthermore, fluoxetine may also exhibit potential immunomodulating activity by inhibiting the expression of pro-inflammatory cytokines such as interleukin-6 (IL-6), thereby preventing IL-6-mediated inflammation and cytokine storm. Fluoxetine hydrochloride, the first agent in the class of SSRIs, is a racemic mixture of R- and S-enantiomers, both of which exhibit equivalent pharmacologic activity. Despite structural differences among SSRIs, these compounds share similar pharmacological activity. Like other antidepressant agents, several weeks of therapy may be required before a clinical effect is observed. SSRIs are potent inhibitors of neuronal serotonin reuptake, with minimal effects on norepinephrine or dopamine reuptake, and no antagonism of α- or β-adrenergic, dopamine D2, or histamine H1 receptors. Acute use of SSRIs, including fluoxetine, results in serotonin reuptake blockade and increased serotonin stimulation of somatodendritic 5-HT1A and terminal autoreceptors, while chronic use leads to desensitization of these receptors. The overall clinical effect of enhanced mood and reduced anxiety is believed to stem from adaptive changes in neuronal function that result in heightened serotonergic neurotransmission. As with any medication, fluoxetine may cause side effects such as dry mouth, nausea, dizziness, drowsiness, sexual dysfunction, and headache. It is important to note that different medicinal formulations of fluoxetine may exist, as depicted in Figure 4. Unveil the unique properties and potential of fluoxetine, a powerful antidepressant and immunomodulator that offers multifaceted therapeutic benefits.
Side effects
Fluoxetine, a widely used selective serotonin reuptake inhibitor (SSRI), is employed to treat various conditions such as major depressive disorder (MDD), bulimia nervosa, obsessive-compulsive disorder (OCD), premenstrual dysphoric disorder (PMDD), panic disorder, and bipolar I depression in combination with olanzapine for treatment-resistant cases. Side effects of fluoxetine are generally mild and occur primarily within the first two weeks of therapy, with lower severity and frequency compared to tricyclic antidepressants. In clinical trials, the most commonly reported side effects of fluoxetine include abnormal dreams, abnormal ejaculation, anorexia, anxiety, asthenia, diarrhea, dizziness, dry mouth, dyspepsia, fatigue, flu-like syndrome, impotence, insomnia, decreased libido, nausea, nervousness, pharyngitis, rash, sinusitis, somnolence, sweating, tremor, vasodilation, and yawning. Fluoxetine is known to have stimulant properties, often causing insomnia and agitation, and is also associated with dermatologic reactions such as urticaria (hives), rash, and itchiness more frequently than other SSRIs. Sexual dysfunction, including loss of libido, erectile dysfunction, lack of vaginal lubrication, and anorgasmia, is a commonly encountered adverse effect of fluoxetine and other SSRIs, with recent studies suggesting an incidence rate of over 70% when actively inquired about by investigators. In fact, on 11 June 2019, the Pharmacovigilance Risk Assessment Committee of the European Medicines Agency concluded that there is a possible causal association between SSRI use, including fluoxetine, and long-lasting sexual dysfunction that persists despite discontinuation of the medication, leading to a recommendation for updated warning labels. The controversial history of fluoxetine includes a high-profile case in 1989, where Joseph T. Wesbecker killed eight people and injured twelve before committing suicide. His relatives and victims attributed his actions to the fluoxetine medication he had started taking a month prior, leading to lawsuits and public outcry. Eli Lilly, the manufacturer of fluoxetine, was accused of inadequate warning to patients and doctors about adverse effects, which had been described as "activation" years before the incident. In conclusion, fluoxetine, despite its efficacy in treating various psychiatric conditions, is associated with unique side effects, including sexual dysfunction, dermatologic reactions, and potential behavioral changes, making careful monitoring and informed decision-making essential in its use.
Hepatotoxicity [6]
Liver function abnormalities have been rarely reported in patients receiving fluoxetine (less than 1% of cases), and the elevations are typically mild and do not usually require dosage adjustments or discontinuation of treatment. However, there have been rare cases of acute liver injury with marked elevations in liver enzymes, with or without jaundice, in patients taking fluoxetine. These cases typically occur within 2 to 12 weeks of starting treatment, and the pattern of enzyme elevations is usually hepatocellular, although mixed and cholestatic injury have also been reported. Autoimmune reactions (such as the presence of autoantibodies) and immunoallergic features (such as rash, fever, and eosinophilia) are uncommon.
Effects and symptoms of Prozac Use [2]
The effects and symptoms of fluoxetine use [2] have been studied extensively, with overdose cases showing generally minor and short-lived symptoms. Common adverse effects of fluoxetine overdose include drowsiness, tremors, rapid heartbeat, nausea, and vomiting. Aggressive supportive care is usually recommended as the intervention. However, there have been rare cases of more severe adverse effects associated with fluoxetine ingestion, often involving co-ingestion with other substances or drugs, as well as other contributing factors. For instance, a case report described a patient who attempted suicide by ingesting 1400 mg of fluoxetine and subsequently experienced a generalized seizure three hours later. Another case involved a 14-year-old patient who ingested 1.2 g of fluoxetine and experienced tonic/clonic seizures, symptoms consistent with serotonin syndrome, and rhabdomyolysis, although sustained renal injury did not occur. Acute exposure to cholinesterase inhibitors can result in a cholinergic crisis characterized by symptoms such as severe nausea/vomiting, salivation, sweating, bradycardia, hypotension, collapse, and convulsions. Muscle weakness may increase, and respiratory muscles may be affected, potentially leading to death. Accumulation of acetylcholine (ACh) at motor nerves can cause overstimulation of nicotinic expression at the neuromuscular junction, resulting in muscle weakness, fatigue, muscle cramps, fasciculation, and paralysis. Overstimulation of nicotinic acetylcholine receptors in the central nervous system due to ACh accumulation can lead to anxiety, headache, convulsions, ataxia, depression of respiration and circulation, tremor, general weakness, and potentially coma. Muscarinic overstimulation due to excess acetylcholine at muscarinic acetylcholine receptors can result in visual disturbances, chest tightness, wheezing due to bronchoconstriction, increased bronchial secretions, increased salivation, lacrimation, sweating, peristalsis, and urination. Exposure to organophosphate pesticides has been linked to certain reproductive effects, such as fertility, growth, and developmental issues in both males and females. Most of the research on reproductive effects has focused on farmers working with pesticides and insecticides in rural areas, with menstrual cycle disturbances, longer pregnancies, spontaneous abortions, stillbirths, and developmental effects in offspring reported in females. Prenatal exposure to organophosphate pesticides has been linked to impaired fetal growth and development. Neurotoxic effects, such as cholinergic syndrome, intermediate syndrome, organophosphate-induced delayed polyneuropathy (OPIDP), and chronic organophosphate-induced neuropsychiatric disorder (COPIND), have also been associated with poisoning from OP pesticides after acute and chronic exposure in humans.
Street Names, Prices and Approximate Dosage
Fluoxetine, commonly known as Prozac, is referred to by various street names such as Bottled Smiles, Happy Pill, Miracle Drug, and Wonder Drug. The cost of fluoxetine oral capsule 40 mg is approximately $13 for a 30-capsule supply, depending on the pharmacy. Dosage recommendations for fluoxetine vary depending on the condition being treated. For bulimia nervosa, adults are typically prescribed 60 mg once a day in the morning. For depression, the initial dose for adults is 20 mg once a day in the morning, with adjustments made by the doctor as needed. If a daily dosage exceeds 20 mg, it can be taken once a day in the morning or divided into two doses (morning and noon), but usually not exceeding 80 mg per day. Children aged 8 years and older may be prescribed 10 or 20 mg once a day in the morning. The general recommended dosage range is 10-80 mg per day. Fluoxetine has a bioavailability of less than 90% due to hepatic first-pass metabolism. In a bioequivalence study, the maximum concentration (Cmax) of fluoxetine 20 mg was 11.754 ng/mL for the established reference formulation and 11.786 ng/mL for the proposed generic formulation. Fluoxetine is highly lipophilic and extensively bound to plasma proteins, allowing it and its active metabolite, norfluoxetine, to penetrate the blood-brain barrier. The elimination half-life of fluoxetine is significant, with an average of 1-3 days after acute administration and 4-6 days after chronic administration of the parent drug. The elimination half-life of norfluoxetine ranges from 4-16 days after both acute and chronic administration. The long half-life of fluoxetine should be taken into consideration when switching patients to another antidepressant, as it can result in marked accumulation with chronic use. However, this long half-life may be beneficial when discontinuing the drug, as it minimizes the risk of withdrawal symptoms.
Dangerous interactions [8]
Fluoxetine acts as an inhibitor of cholinesterase or acetylcholinesterase (AChE). AChE inhibitors are potent neurotoxins that interfere with the essential function of acetylcholinesterase, leading to various symptoms. Even low doses of these chemicals can cause excessive salivation, eye-watering, muscle spasms, and eventually death. Nerve gases and many insecticides work by binding to the active site of acetylcholinesterase, completely inhibiting the enzyme. Acetylcholinesterase is responsible for breaking down the neurotransmitter acetylcholine, which is released at nerve and muscle junctions to allow muscles and organs to relax. When acetylcholinesterase is inhibited, acetylcholine builds up and continues to act, resulting in continuous nerve impulses and muscle contractions without stopping. Phosphorus-based compounds are among the most common acetylcholinesterase inhibitors, designed to bind to the enzyme's active site. These compounds typically contain a phosphorus atom with lipophilic groups, a leaving group (such as a halide or thiocyanate), and a terminal oxygen. Overdose symptoms may include agitation, restlessness, hypomania, and other signs of CNS excitation. Common side effects of fluoxetine include anxiety, nervousness, insomnia, drowsiness, fatigue or weakness, tremor, dizziness or lightheadedness, anorexia, nausea, diarrhea, vasodilation, dry mouth, abnormal vision, decreased libido, abnormal ejaculation, rash, and sweating. Withdrawal symptoms may include flu-like symptoms, insomnia, nausea, imbalance, sensory changes, and hyperactivity. Fluoxetine should not be used in combination with other serotonergic drugs, such as monoamine oxidase inhibitors, tricyclic antidepressants, methamphetamine, amphetamine, MDMA, triptans, buspirone, ginseng, dextromethorphan (DXM), linezolid, tramadol, serotonin-norepinephrine reuptake inhibitors, and other SSRIs, due to the potential risk of developing serotonin syndrome.
Legal Status
Australia: Schedule 4 (Prescription Only)
Canada: Prescription Only
United Kingdom: Prescription Only Medicine (POM)
United States: Prescription Only
European Union: Prescription Only (Rx-only)
Synthesis of N-methyl-3-phenyl-3-[4-(trifluoromethyl)phenoxy]propan-1-amine [9, 10]
A method for synthesizing fluoxetine hydrochloride involves the reduction of ethyl benzoylacetate to ethyl 3-hydroxy-3-phenyl propionate, followed by treatment with methylamine to obtain 3-hydroxy-3-phenyl propionic acid N-methyl amide. This compound is then reacted with 4-trifluoromethylphenol to obtain 3-phenyl-3-[4-(trifluoromethyl)phenoxy]N-methyl propanamide, which is subsequently reduced to obtain fluoxetine. Fluoxetine hydrochloride is then obtained by treating fluoxetine with hydrochloric acid, as shown in Scheme Figure 5.
Conclusion
In conclusion, fluoxetine hydrochloride is a pioneering selective serotonin-reuptake inhibitor (SSRI) and is widely used as the first-line treatment for depression. It is favored for its minimal side effects and high tolerability. Although hair loss may occur as an adverse effect of psychotropic drug use, it can typically resolve upon discontinuation of fluoxetine. Overdose cases of fluoxetine generally result in mild and short-lived symptoms. The long half-life of fluoxetine can be advantageous during drug discontinuation as it minimizes the risk of withdrawal. Common side effects of fluoxetine include dry mouth, nausea, dizziness, drowsiness, sexual dysfunction, and headache. It's important to note that recreational use of fluoxetine and similar antidepressants is limited.
Bibliography